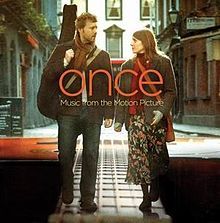 8/10
The duo in Once are the rare movie musical characters who actually have a reason to be singing. They are musicians working together with little more common tongue than song. Their songs and Glen Hansard and Markéta Irglová's chemistry carry the simple premise of the film. It's quite enjoyable, both in its cinematic form, and on this soundtrack, which I don't think misses a note from the film. Folk music usually isn't anything close to my style, but these two musicians are incredibly talented, and Hansard has a voice for the ages. This is good stuff.
Once comes from the period that launched that
fun
time
in my life I was raving about a few reviews back. Back then, my wife and I went on a true tear of movie-watching excellence that included this film as well as Mysterious Skin (the kind of movie you only watch once), After the Wedding, The Lives of Others, Eagle vs Shark (one of the weirdest, funniest movies I've ever seen), as well as many others.
This scene marks the moment in Once where my wife looked over at me and said, "I love this movie." It believe it occurs 30 seconds into the film. I ended up having to purchase this soundtrack for her twice. I recommend the
Collector's Edition
, as the two additional Van Morrison covers it includes are quite good.
Fast forwarding six years, we recently watched
The Swell Season
, a documentary on Hansard and Irglová's current musical act of the same name. It's a great look into their relationship, as well as a meditation on the effect of Once on the duo's lives. If you're a fan, check it out.
2007 Columbia/Sony Music Soundtrax
1. Falling Slowly 4:04
2. If You Want Me 3:48
3. Broken Hearted Hoover Fixer Sucker Guy 0:53
4. When Your Mind's Made Up 3:41
5. Lies 3:59
6. Gold 3:59
7. The Hill 4:35
8. Fallen from the Sky 3:25
9. Leave 2:46
10. Trying to Pull Myself Away 3:36
11. All the Way Down 2:39
12. Once 3:39
13. Say It to Me Now 2:35
14. And the Healing Has Begun" (Van Morrison, Collector's Edition Only) 5:19
15. Into the Mystic" (Van Morrison, Collector's Edition Only) 4:21