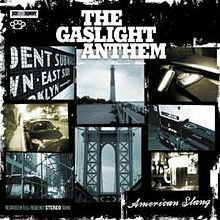 8/10
The Gaslight Anthem are back with,
American Slang
, an album that streamlines most of the band's usual punk influence out of the proceedings. What's left is good, old-fashioned, American rock music. Brian Fallon also cuts out the song quotes and Dickens references from his lyrics, getting more personal and crafting personalities for each song. Turns out Fallon is kind of a cheesy guy, but you have to be to be this enthusiastic about the songs you are writing, and his earnestness keeps the album going. Though
American Slang
doesn't have the energy of its predecessor, it still packs a gritty wallop, and some of the band's best work to date throughout its ten tracks. A favorite of mine is "The Diamond Church Street Choir." I'm not quite sure what Fallon is talking about, singing the blues better than anyone else or something, but the song is an instant classic.
It's pretty tough to hear Fallon's voice in this song and believe it comes from someone who was born during the Reagan administration. The past is The Gaslight Anthem's gift to the world.
2010 SideOneDummy
1. American Slang 3:41
2. Stay Lucky 3:09
3. Bring It On 3:27
4. The Diamond Church Street Choir 3:12
5. The Queen of Lower Chelsea 3:39
6. Orphans 3:23
7. Boxer 2:47
8. Old Haunts 3:30
9. The Spirit of Jazz 3:13
10. We Did It When We Were Young 4:16