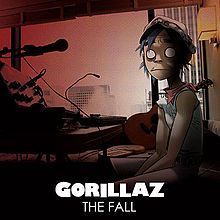 8/10
At the end of 2010, just nine months after their last album dropped, Gorillaz returned with a new full length. Here in early 2013, after a recent spat between musical frontman, Damon Albarn, and artwork frontman, Jamie Hewlett, we may never get another Gorillaz album. Very fitting then, that
The Fall
could be their final work.
The Fall
is a completely different beast from the rest of Gorillaz's recorded output. Gone are the guest spots that outnumber the track count. Two songs feature instrumental input from some old men that used to be in this band called The Clash. Another features the excellent vocal guest work of living legend, Bobby Womack.
The Fall
is just as genre-less as the rest of Gorillaz's work, but it completely eliminates any rapping, a four or five track staple of all the rest of their albums--there are no late-night visitors, ala
Demon Days
. This album is almost all Albarn.
As such, instead of coming off as a collaborative effort like the rest of the band's work,
The Fall
feels intensely personal, a confessional through the mouthpiece of an animated monkey. Albarn recorded the entire album on his IPad during Gorillaz's
Plastic Beach
tour.
The Fall
is thus a travelogue of sorts, a way for Albarn to vent his emotions and feelings (editors note: aren't those two things the same?) as he travels across America. In this sense,
The Fall
is reminiscent of Kevin Shield's soundtrack for the film Lost in Translation.
The Fall
very much contains the sense of wandering across a foreign land, feeling homesick, yet enjoying the experience. Albarn throws a lot of weird sounds onto this album, yet fuses and familiarizes them with the organic, whether with a picked guitar, a strummed ukulele, or a nostalgic wave of noise.
While
The Fall
might not contain the epic feel and catharsis of Gorillaz's two masterpiece LP's,
Demon Days
and
Plastic Beach
, I have a soft spot for its unique and intimate nature. It also reminds me of the more whimsical moments on múm's
Finally We Are No One
, though I wouldn't go so far as to call
The Fall
whimsical. It's a document of a strangely alien, yet wonderful period in someone's life, one I'm grateful was shared. I feel like that last sentence needed more adverbs. Here, I'll set this song up with some to end the review. "Hillbilly Man" starts off with a gorgeous and achingly beautiful melody before wandering off the beaten path to encounter a big beat and some bizarrely...wait, is it still an adverb if it's describing an adjective? Was there supposed to be a comma in there?
Joel Schumacher
's directing skills, I HATE English!
2010 Parlophone
1. Phoner to Arizona 4:14
2. Revolving Doors 3:26
3. HillBilly Man (featuring Mick Jones) 3:50
4. Detroit 2:03
5. Shy-town 2:54
6. Little Pink Plastic Bags 3:09
7. The Joplin Spider 3:22
8. The Parish of Space Dust 2:25
9. The Snake in Dallas 2:11
10. Amarillo 3:24
11. The Speak It Mountains 2:14
12. Aspen Forest (featuring Paul Simonon) 2:50
13. Bobby in Phoenix (featuring Bobby Womack) 3:16
14. California and the Slipping of the Sun 3:24
15. Seattle Yodel 0:38