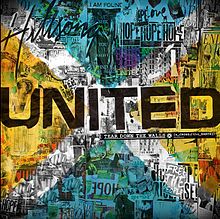 7/10
After 2007's breakout
All of the Above
, which cracked the billboard charts, and two years of non-stop touring, Hillsong United must have been exhausted. There is a weariness to 2009's
Across the Earth
that shows the band going through the motions to a degree.
The opening trio of songs are decent enough, but sound like they could be live B-sides from
All of the Above
. The real meat of the album is found on tracks four, five, and six. Track four, "King of All Days" adds a driving beat and more aggressive guitar picking to the standard Hillsong ballad sound, a stunning vocal switch at the 3:52 mark, and a great payoff at the end
"King of All Days" flows smoothly into the next standout, Brooke Ligertwood's "Desert Song." Ligertwood was All of the Above's breakout star, and she doesn't disappoint with "Desert Song," lyrically, vocally, or musically.
Then it begins. The traditional Hillsong ballads. Things start off well with "Oh You Bring," easily the best of the bunch, with its twists and turns and powerful crescendo. United could have easily followed this song with a fast-paced track, but no--a seven minute ballad wasn't enough. It's time for a ten-minute ballad! Don't get me wrong, "Tear Down the Walls" is a beautiful, powerful song, but paired with "Oh You Bring," that's 17-minutes of ballad. That indulgence might be forgivable, but Ligertwood's "Soon" follows, and while it too is beautiful, it slows down the pace even more. Time for a pick me up, though, right? Nope, it's time for "You Hold Me Now," another eight-minute ballad! And then "Arms Open Wide," another six minute...ballad! Both songs are beautiful, but that's five straight ballads totaling 37 minutes. That is just too much balladry. Though the songs are gorgeous, passionate, and powerful, they are exhausting. To further my not-really cookies metaphor from my
All of the Above
review, near the end of this stretch of songs feels like you've been eating awesome cookies all night to the point that you are lying in a puddle of sweat and your skin is tingling, but you know that your alarm is going to go off in an hour, and you're going to have to go to work, and all you want to do is sleep.
The decision to return to live recording after the studio-recording success of
All of the Above
is an interesting choice here.
All of the Above
was such an artistic boost for the band,
Across the Earth
can't help but feel like a step back. Still, it is such an overpowering wave of a listening experience, I can't help but recommend it anyway.
2009 Hillsong Music Australia
1. Freedom Is Here 5:39
2. No Reason to Hide 4:42
3. More Than Anything 3:53
4. King of All Days 6:18
5. Desert Song 4:40
6. Oh You Bring 7:02
7. Tear Down the Walls 10:21
8. Soon 5:47
9. You Hold Me Now 8:27
10. Arms Open Wide 6:17
11. Your Name High 5:04
12. Yours Forever 3:39