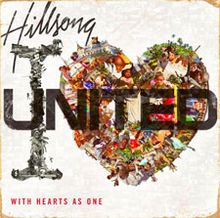 8/10
Hillsong United decided to follow
All of the Above
, their biggest triumph yet, with a victory lap.
The I Heart Revolution
follows the best incarnation of the band to that date around the planet as they play their best songs. Almost every corner of the globe is represented, with performances from every continent but Antarctica included on this double album. The performances are edited together into one thrilling, 2.5 hour show, where even most of the band's ballads are full of energy. Crowd enthusiasm is high, and United's performances are powerful and passionate, though the second disc does hold a clear edge over the first. While 155 minutes is a whole lot of music, you probably aren't going to just listen to the whole thing in one chunk. You could clean your house with it on, or just leave it playing in your car for a week. The album flows along well, but it isn't necessary to sail the entire river to enjoy it. That metaphor was a little too wet. That pun was a lot of fun. That rhyme makes me want to...whoops, outta gimmicks...
Hillsong United also released a companion DVD to the album that enhances the international flavor. For instance, the CD version of "From the Inside Out," recorded in Brazil, is in English, but the DVD includes the Argentinean recording...sung movingly in Spanish. It got my Grinch off the mountain.
2008 Hillsong Music Australia
Disc A
1. The Time Has Come 6:24
2. One Way 3:37
3. What the World Will Never Take 4:15
4. 'Til I See You 6:05
5. Take All of Me 8:02
6. The Stand 5:32
7. You'll Come 6:22
8. Break Free 4:09
9. Look to You 4:14
10. Where the Love Lasts Forever 6:03
11. Forever 4:15
12. There Is Nothing Like 7:49
13. Tell the World 4:34
14. All Day 5:18
Disc B
1. Take It All 3:36
2. My Future Decided 3:34
3. All I Need Is You 6:00
4. Mighty to Save 5:04
5. Nothing But the Blood 3:49
6. Hosanna 6:13
7. Fuego De Dios (Fire Fall Down) 1:40
8. Shout Unto God 4:14
9. Salvation Is Here 4:03
10. Love Enough 3:04
11. More Than Life 6:29
12. None But Jesus 7:58
13. From the Inside Out 5:59
14. Came to My Rescue 3:43
15. Saviour King 7:03
16. Solution 5:55