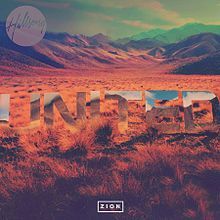 9/10
If there's a stigma about Hillsong United, it's the classic image of the blond, long-haired, v-neck wearing, goofy-looking Australian guy, holding a guitar, saying with a Crocodile Dundee accent, "Are you guys redday to prayse Jaysus?" There have been periods where their image and music supported this notion.
Zion
, their newest studio album, does not.
Hillsong United have finally broken out of the box. Their basic, guitar-rock sound is gone. For the first time, they aren't simply beautifying musical boundaries.
Zion
has no boundaries. "The music of God?" one could ask of their previous work. "I guess God must listen to a lot of U2." The music on
Zion
does not sound like U2 (though I love U2's music very dearly).
Zion
sounds incredibly modern without aping trends. It is lead by electronics, but it is not taking a lead from anyone. It just is, and it is beautiful. The only stepping off point, or at least warning that
Zion
was coming, are the small electronic bursts found on United's previous album,
Aftermath
. That's not to say
Zion
doesn't have any guitar--guitar just isn't the dominating instrument anymore. It is musical equality all around. Every performance and example in songwriting sets a precedent that every other worship album released this year should try, but will probably fail, to live up to. That's enough out of me. Here're a couple songs, and I'll get out of the way. Have a happy 4th.
2013 Hillsong Music Australia/Sparrow
1. Relentless 5:09
2. Up in Arms 4:27
3. Scandal of Grace 4:05
4. Oceans (Where Feet May Fail) 8:55
5. Stay and Wait 5:12
6. Mercy Mercy 4:41
7. Love Is War 7:15
8. Nothing Like Your Love 5:51
9. Zion (Interlude) 3:31
10. Heartbeats 3:53
11. A Million Suns 5:05
12. Tapestry 6:42
13. King Of Heaven 5:28