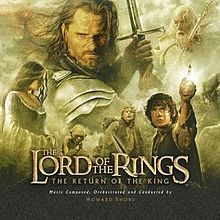 8/10
I was expecting Return of the King to be a good film. I was not expecting it to contain one of the most inspirational scenes of all time.
If you don't like that scene, you're evil. Part of the reason it works so well is Sean Astin's Oscarworthy, yet non-nominated performance (The winner that year? The overacting Sean Penn, in the overrated, completely forgettable, and rightfully forgotten Mystic River. The wrong Sean won.). Another highly contributing factor is Howard Shore's score, which, like his work for the two preceding Lord of the Rings films, is excellent. Shore DID win an Oscar for his work for this film, and it IS merited. He soundtracks every scene excellently, using plenty of Celtic instrumentation when he has to be moving, including plenty of booming, intimidating brass when the armies of darkness seem more powerful than ever, and providing as victorious a backing as possible when those armies are overcome.
Shore brings back many of the trilogy's preceding themes, yet adds even more equally as memorable ones to the films' aural lexicon with the introduction of Gondor and the hopes of a world to come. He also tinkers with the older themes, even shifting the dark theme into a major key when the ultimate evil is defeated. Overall, this soundtrack is almost perfect. Almost.
The Return of the King's soundtrack unfortunately shares the same flaw as its film. It just keeps on ending. Now fans of the books know, the cinematic version of Return of the King excises much of that book's ending. But Jackson, in a very rare display of bad instincts, chooses to transition through what is left of the ending with fadeout after fadeout. When you are ending a nine-hour trilogy, you want the audience to be absolutely sure when it is over. Fading to assumed credits only to show another scene again and again is not the way to do this. The final minutes of Shore's score have to soundtrack these transitions, and unfortunately, it makes the album drag. It ends, and then it ends, and then it ends. It's not a completely "didn't stick the landing finish," though. It's just a "they somehow accomplished 700 impossible somersaults, then stood after they landed and stared off into the distance for several minutes" landing. In other words, the Lord of the Rings trilogy is one of the greatest ever filmed, and its soundtrack is also excellent, they just both don't know how to say goodbye. Better a lovable lingering visitor you enjoy than a loitering, sulky vampire. The sun comes up, and they just hang around and glitter.
2003 Reprise
1. A Storm Is Coming 2:52
2. Hope and Memory 1:45
3. Minas Tirith (feat. Ben Del Maestro) 3:37
4. The White Tree 3:25
5. The Steward of Gondor (feat. Billy Boyd) 3:53
6. Minas Morgul 1:58
7. The Ride of the Rohirrim 2:08
8. Twilight and Shadow (feat. Renée Fleming) 3:30
9. Cirith Ungol 1:44
10. Andúril 2:35
11. Shelob's Lair 4:07
12. Ash and Smoke 3:25
13. The Fields of the Pelennor 3:26
14. Hope Fails 2:20
15. The Black Gate Opens (feat. Sir James Galway) 4:01
16. The End of All Things (feat. Renée Fleming) 5:12
17. The Return of the King (feat. Sir James Galway, Viggo Mortensen and Renée Fleming) 10:14
18. The Grey Havens (feat. Sir James Galway) 5:59
19. Into the West (performed by Annie Lennox) 5:49