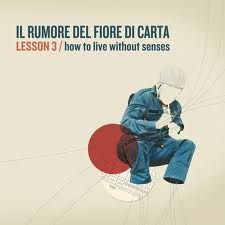 8/10
There are no shortage of instrumental "post-rock" bands who sound the same. Instrumental "post-rock" is that genre with two guitarists, a bassist, and a drummer, where the guitars play softly for about four minutes, get more intense for another four, and then all the instruments go crazy for four minutes. Write and record four of those, and you have an instrumental "post-rock" album. Post-rock instrumental albums are never led by a piano, never include copious amounts of horn-playing, and are never created by bands from Italy. No one told Il Rumore del Fiore di Carta this.
Lesson 3/How to Live Without Senses
bucks almost every instrumental post-rock trend. A piano is the lead instrument for most of the album. The guitars and drums don't have to freak-out in every song. Each song doesn't have to explode at the end. Sometimes loveliness is lovely enough for itself. This album doesn't follow the rules.
Lesson 3/How to Live Without Senses
is a melancholy album that's meant to be listened to alone, particularly if the sky is grey, and the sun can be timed to come out just as the album reaches its concluding three minutes. It contains two jams that eclipse the ten-minute mark, and even they buck convention. The first, "Minigolf Striker," gets as loud as its going to get just past the halfway point. It's content to let the piano and horn-led after-affects be the most interesting part of the song. The second, "Music for Vegan Vampires," is as unconventional as its song title. The first three minutes are dominated by a drum-machine and piano. The guitar-buildup hides in the piano runs as if the latter is a Trojan horse. Just when you think the slaughtering Greek army is going to burst out, the song slides to a halt, and the expected explosion of noise is just a woozy display of quiet guitar effects. When the rhythm section returns with live drums instead of the drum-machine, it is actually unexpected. When the live drums do their expected rolls and crashes, they are backed not by a roaring wall of guitars, but by even more slow-burning distortion. After Troy comes tumbling down, here comes our buddy, Mr. Horn, and his friend, the underrated secret-star of the show, Bass Guitar, to play us out.
I act as if these instruments are living things without people behind them, but this is that sort of album. In reality, though,
Lesson 3/How to Live Without Senses
was made by people, and whatever those people are doing now, I hope it is making new music. Il Rumore del Fiore di Carta is needed, and I hope their best is yet to come.
2011
1. Damaged Robots (in a Camomilla Bar) 6:20
2. Part-time Superhero 7:46
3. Minigolf Striker 10:54
4. Last Dog In a talk-show 6:28
5. Gold Medals for Rent 4:22
6. Music for Vegan Vampires 11:21
7. The Blind Cosmonaut Under the Sea 3:25