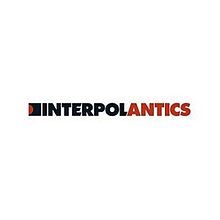 7/10
First, let's get this out of the way. Interpol's
Turn on the Bright Lights
came out of nowhere. It is a masterpiece, and it is not likely that Interpol can ever top it. For their sophomore effort,
Antics
, the band don't even try. The merits of this decision are debatable. Let's give this a cold dissection.
"Next Exit" kicks off Antics in a fairly anonymous fashion. All of the dark mood and atmosphere that opened
Turn on the Bright Lights
is absent. In its place is a bouncy rhythm, the oldest chord progression in history, and a promise to head into sunnier waters. "Evil" immediately fulfills that promise. It takes
...Bright Lights
energy and cool factor, but transforms it into something...happy? Joyful? It's a good place to start, though the next track, "Narc" sounds like "Evil's" b-side.The heavy rhythm section sound from
Turn on the Bright Lights
is gone. Paul Banks' voice is at the forefront instead. It's not a bad song, and the sunny guitars in the chorus are a good prelude to one of
Antics
standout tracks, "Take You on a Cruise." This whole, "taking a holiday to sunnier seas and away from the darkness" thing seems to be
Antics
' main theme.
Turn on the Bright Lights
was a very dark album, so the sentiment is understandable. "Take You on a Cruise" is a great argument for that point of view, as it takes the album's nautical vacation idea to a beautiful place. It also marks one of
Antics
rare occasions where every band member sounds to be hitting full cylinder at the same time. This song's extra-effort, particularly that of the final-minute outro, would have gone a long way toward putting this album somewhere close to its predecessor.
Indeed, the entire middle of
Antics
is the only portion that comes close to giving
Turn on the Bright Lights
a run for its money. "Slow Hands" follows "Take You on a Cruise" with a sort of fun, fast-paced energy Interpol has seldom-displayed since. "Not Even Jail" expands the band's sound with new-found space, taking its time to fill out its repetitive groove before finally hitting upon a fitting finish that is truly earned. "Public Pervert" takes Interpol into the romantic stratosphere and works as
Antics
' highpoint, union on the seas finally achieved. Unfortunately, there are three more songs.
"C'mere" is a lightweight love song. It's pleasant, and that's about the best thing I can say about it.
"Length of Love." If you sang "
Two notes, two notes, two notes, two notes, two notes, two notes, three notes
," you would sum up the entire melodic and lyrical span of "Length of Love." The simplistic, stretched-out, obnoxious laziness of this song is too much to bear considering what Interpol is capable of.
"A Time to Be So Small" closes out the album by lyrically returning to the nautical theme, but musically, it's dead in the water. It goes nowhere. Thus ends the second chapter of Interpol's musical career. Some great songs floating in a stagnant sea.
2004 Matador
1. Next Exit 3:20
2. Evil 3:35
3. Narc 4:07
4. Take You on a Cruise 4:54
5. Slow Hands 3:04
6. Not Even Jail 5:46
7. Public Pervert 4:40
8. C'mere 3:11
9. Length of Love 4:06
10. A Time to Be So Small 4:50