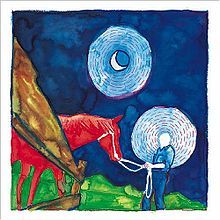 8/10
As a direct continuation of the previous 2005 centered review, but slightly more focused, After a spring spent enjoying Iron and Wine's debut album, I checked out Sam Beam's second release,
Our Endless Numbered Days
. Outside of a few tracks, that album just didn't do it for me, and as my year got really dark, then got really contemplative, then got really huge, I forgot about old Iron & Wine. Near the end of the year, flush with cash from a Katrina disaster-relief job that had me working 44 hours overtime (84 hours a week), I hit up my local music store. Who do I see there but my old friend, Iron and Wine, with a shiny new release on the front rack. Much like my year, compared to the sound of Beam's previous work, this release is relatively huge as well. Beam had teamed with Southwestern band Calexico to record seven songs he'd written. This meant, for the first time, Beam's songs had drums and multiple instruments backing them. This works greatly to Beam's advantage because I don't know if that dude will ever be able to record something as expansive sounding as EP opener, "He Lays in the Reins" again.
The song is...perfect. Beam's voice, the western instrumentation, the loping percussion, and that mariachi singer at the 1:45 mark...all brilliant. This track is a career highlight. The rest of the EP never reaches so high, but the huge sound of Calexico's multitude of instruments (horns make several welcome appearances) blended with Beam's more quiet, intimate approach leads to several magical moments. "Burn that Broken Bed" is a particular highlight, with a horn lead lending a sultry, middle of the night landscape Beam has never before occupied. Closer, "Dead Man's Will," became Tim and Billy Riggins theme song on the TV show Friday Night Lights, so you can imagine that it's pretty great. "Prison on Route 41" is perhaps the only weak link, as it just sounds like a Beam B-Side with some drums added, and contains some of his weakest lyrics to date.
Outside of that one outlier, this EP is something pretty special. In 2005, I got a pretty huge kick out of hearing Beam sound so large when I was feeling "on the precipice" myself. In 2013, this is still the last album with Iron & Wine on the spine I've purchased, but if he were to ever work with Calexico again...
But wait! Here's a ridiculously beautiful, recently re-recorded version of "He Lays in the Reins" under the Iron & Wine moniker that makes me rethink the previous sentence. If he sounds like this now...
2005 Overcoat Recordings
1. He Lays in the Reins 3:43
2. Prison on Route 41 4:10
3. History of Lovers 3:09
4. Red Dust 3:31
5. 16, Maybe Less 4:49
6. Burn That Broken Bed 5:06
7. Dead Man's Will 3:13