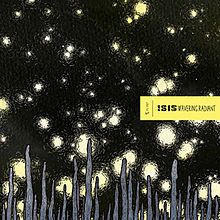 8/10
Isis further the transformative spiritual themes of their previous albums with their final work,
Wavering Radiant
. The band also embrace the decade that really made them possible, the 70's, more than ever. The keyboard sound might as well have arrived by time machine from 40 years ago, as well as
Wavering Radiant
's more relaxed pace.
Wavering Radiant
truly encapsulates what was great about this band: the sound of wandering a torch-lit corridor, sometimes wading through a suffocating pile of bones, sometimes wading through a refreshing, ancient pool. The heaviness offset with an equal amount of beautiful contemplation. Every Isis record really exemplifies this feeling of an archaeological dig. You can listen to the same album a dozen times, then unearth something you've never before noticed on the 13th.
I am glad the band called it quits after
Wavering Radiant
, though. You can tell they've reach the end of their capabilities together here. Isis' sound on
Wavering Radiant
is as clearly defined as possible, and going on further would have only diluted it. Penultimate track, "20 Minutes/40 Years" is the most triumphant they could sound within the parameters of Isis, and is the best possible way they could have gone out. Final track, "Threshold of Transformation," acts as a victory lap.
Now we have five historical documents to pore over, five albums to spelunk for treasure, with new discoveries still waiting around each corner. Whether it is through the tension of their earlier work, or the more relaxed, yet equally more dynamic sound of their later work, Isis is a band for the ages.
2009 Ipecac
1. Hall of the Dead 7:39
2. Ghost Key 8:29
3. Hand of the Host 10:43
4. Wavering Radiant 1:48
5. Stone to Wake a Serpent 8:31
6. 20 Minutes / 40 Years 7:05
7. Threshold of Transformation 9:53