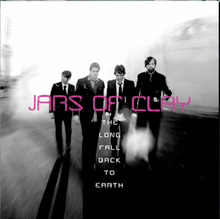 10/10
Where Jars of Clay's
Good Monsters
dealt with the macro of the biggest issues in life,
The Long Fall Back to Earth
deals with the micro realm of relationships. The former deals with man's relation to the universe and the Almighty, but
The Long Fall Back to Earth
deals with our relationships with each other. Jars of Clay incorporate more of an electronic, slight 80's flavor into their sound while doing their usual stellar job of holding on to their own identity. The good news is that the band further the level of excellence they reached with the preceding album. The bad news is that if you like bad music, you won't find any here.
Actually, I don't have much more to say. Jars of Clay, at this point in their career, are at the top of the songwriting chain. In any genre of music they attempt, they find wild success. Remember the
last Coldplay album
? Coldplay tried and mostly failed to successfully blend their sound with quirky electronics. Jars of Clay attempted the same thing on
The Long Fall Back to Earth
, and was wildly successful...two years before that Coldplay album was even released. "Scenic Route" essentially does everything Coldplay tried to do on that album in one song, except it's excellent.
Maybe that's just because Dan Haseltine is a far better lyricist than Chris Martin. The unique perspectives he finds song to song from people yearning for connection with others strike gold again and again. Maybe Jars of Clay are just a far more talented band than Coldplay. Why am I still talking about Coldplay? Jars of Clay are one of the best, and certainly one of the more underrated bands on the planet today. If you miss out on the work they've released in the last decade, you are doing yourself a disservice. You can't say you haven't been told.
2009 Gray Matters/Essential Records
1. The Long Fall 2:19
2. Weapons 3:28
3. Two Hands 4:26
4. Heaven 3:18
5. Closer 3:56
6. Safe to Land 4:47
7. Headphones 4:54
8. Don't Stop 3:44
9. Boys (Lesson One) 4:01
10. Hero 4:52
11. Scenic Route 5:41
12. There Might Be a Light 3:56
13. Forgive Me 3:53
14. Heart 5:50