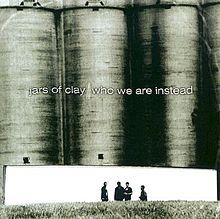 9/10
As several great bands have done for their fifth album, Jars of Clay looked west.
Who We Are Instead
incorporates a country-gospel feel into the band's sound. But just as U2 sounds only like U2 on
The Joshua Tree
,
Who We Are Instead
sounds only like Jars of Clay. This isn't a country album, this is a Jars of Clay album with alt-country flavors.
Jars also decided to take a page from the humble themes of Johnny Cash, who's work inspired much of this album.
Who We Are Instead
wrestles with grace, throughout, in a meditative,thoughtful, and sometimes difficult fashion.
The song, "Jealous Kind," does so most explicitly
"
Trying to jump away from rock that keeps on spreading/For solace in the shift of the sinking sand/I'd rather feel the pain all too familar/than be broken by a lover I don't understand.
" If you aren't following my U2 logic, this song is Jars of Clay's "I Still Haven't Found What I'm Looking For."
Who We Are Instead
is also a lot of fun. All that pedal steel isn't there to depress--there's as much foot-stomping as contemplation. The only flaw is the inclusion of Jars of Clay's cover of "Lonely People." I'm a big fan of America's original, and I even like Jars of Clay's interpretation. It just doesn't fit on the album, and as track three, it takes a little bit away from
Who We Are Instead
's building momentum. Without that minor gaff,
Who We Are Instead
is a near perfect album from a bunch of desert-walking Southerners, working out their salvation in fear and trembling. Or if you're not into that, from a bunch of talented, smart dudes who harness emotion really well. Either way, it's brilliant.
2003 Essential Records
1. Sunny Days 3:30
2. Amazing Grace (featuring Ashley Cleveland) 5:18
3. Lonely People (America cover) 2:45
4. Only Alive 4:04
5. Trouble Is 3:50
6. Faith Enough 5:24
7. Show You Love 3:33
8. Lesser Things 4:36
9. I'm In The Way 2:33
10. Jesus Blood Never Failed Me Yet (Gavin Bryars cover) 3:39
11. Jealous Kind (featuring Ashley Cleveland) 4:10
12. Sing 4:11
13. My Heavenly 3:29