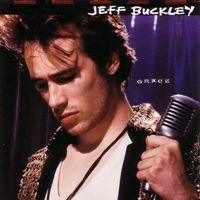 8/10
Jeff Buckley died at the age of 30, three years after releasing
Grace
, his first album. Buckley was rightly heralded for having the voice of an angel, and the skill to do pretty much anything on the guitar he wanted.
Grace
features these two strongest elements of his craft in spades. It's important to mention, though, that
Grace
is a debut album. It isn't perfectly formed, and in some places, Buckley's songwriting leaves a little to be desired. "So Real" and "Lover, You Should've Come Over" both have their moments, but not much direction. The album's weakest moments sound like college jam-band material. Still, the mix of 90's alternative rock with some pretty dreamy tones hits far more than misses. Considering this and the posthumously released, incomplete
Sketches for My Sweetheart the Drunk
are all we have of Buckley's once-burgeoning creative output,
Grace
should be regarded as a flawed classic.
I originally picked up
Grace
some time around (my first trip through) college because a friend assured me it was what "adults listened to." She cracked me up with that one, but I'm glad she made me buy this. Also, a
Grace
CD booklet photo featuring one of the band members drinking coffee like it is the coolest activity ever conceived by humans makes me miss the 90's more than any of the 90's nostalgia stuff marketing experts have been coming up with lately.
1994 Columbia
1. Mojo Pin 5:42
2. Grace 5:22
3. Last Goodbye 4:35
4. Lilac Wine 4:32
5. So Real 4:43
6. Hallelujah 6:53
7. Lover, You Should've Come Over 6:43
8. Corpus Christi Carol 2:56
9. Eternal Life 4:52
10. Dream Brother 5:26