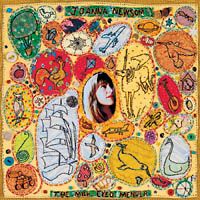 8/10
Near the end of 2004, shortly before my first college graduation, I was making my nightly commute home from Baton Rouge. The radio station I DJ'ed for played Joanna Newsom's "Peach, Plum, Pear," and for some reason it made me think of my wife. The next night, we were in the DJ booth together, and I played the song for her on a break. Of course, she wasn't my wife then, and she had a boyfriend at the time, but that's the way I roll. Joanna Newsom's debut album,
Milk-Eyed Mender
also does whatever it wants, rules be damned.
First off, Joanna Newsom's singing voice sounds like
this person
. Secondly, her chief instrument is the harp, with the piano and harpsichord functioning as her secondary tools. A friend shows up to sing and play acoustic guitar on a couple of tracks. That's it. That's all you get.
For most of the album, the only sounds are Newsom's beautifully unique, at times abrasive, singing voice, and a harp. Somehow, the combination of these elements creates a strangely personal and comforting album. Newsom has great wit and humor as a lyricist. Wikipedia shows she was born only a month after me, and was 22 when this album was released, but she was a lot wiser at 22 then I was. You should never say the word "was" in a sentence four times.
Before this review, I hadn't listened to
The Milk-Eyed Mender
in a while, and I had mixed recollections of how I initially received it. After a rough day last week, a late night drive home to
The Milk-Eyed Mentor
was quite the calming experience. There are two or three jarring moments where Newsom pushes her voice a bit too far (the opening word of "Sadie," for instance), but overall,
The Milk-Eyed Mender
is a remarkably assured and enjoyable debut.
2004 Drag City
1. Bridges and Balloons 3:42
2. Sprout and the Bean 4:32
3. The Book of Right-On 4:29
4. Sadie 6:02
5. Inflammatory Writ 2:50
6. This Side of the Blue 5:21
7. 'En Gallop' 5:07
8. Cassiopeia 3:20
9. Peach, Plum, Pear 3:34
10. Swansea 5:05
11. Three Little Babes (traditional) 3:42
12. Clam, Crab, Cockle, Cowrie 4:21