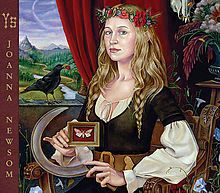 10/10
I've gone on
at length
about my need for a Björk successor. Many artists have tricked me into thinking they are the chosen one, only to later show themselves as something only...ordinary. I need an unconventionally beautiful weirdo with an unconventionally beautiful voice and unconventionally beautiful music and lyrics to take up the mantle. Björk is old enough to be a grandmother now, and someone has to follow her. I have been listening to Joanna Newsom for nearly a decade, and yet I have somehow failed to notice that she has been carrying the torch for the last seven years.
Newsom is a harpist and pianist with a squeeky, scratchy, yet intensely emotional voice. On her debut album,
The Milk-Eyed Mender
, she showed a knack for lyrical excellence few posses.
The Milk-Eyed Mender
was a pretty minimalist album, with Newsom and her harp or piano very rarely backed by anything or anyone over the course of its 12 three-minute-ish tracks. If
The Milk-Eyed Mender
is analogous to dipping one's feet in the water, its follow-up,
Ys
, is jumping off a cliff in California and surfacing off a moonlit beach in Japan.
Ys
' five songs average eleven minutes a piece. For four out of five, Newsom is backed by a full orchestra, among other instruments. The lyric sheets are so long, the CD booklet looks like a novella. Most importantly, Newsom's skills as a songwriter have gone from good to unparalleled.
I find it far more difficult to review an album I love dearly than one I don't. What do I say to convince the reader that this album really is worth their investment? After all, Newsom's voice is an acquired taste, harp-playing isn't exactly in-vogue, and the average 2013 person's attention-span lasts less than five minutes, let alone fifty-five.
Instead of attempting to convince, I will let Joanna speak for herself. If you think you would enjoy a song that climaxes with the lyrics:
We could stand for a century,
staring,
with our heads cocked,
in the broad daylight, at this thing:
Joy,
landlocked in bodies that don't keep —
dumbstruck with the sweetness of being,
till we don't be.
...if you think you would enjoy something like that, give
Ys
a listen.
2006 Drag City
1. Emily 12:07
2. Monkey & Bear 9:29
3. Sawdust & Diamonds 9:54
4. Only Skin 16:53
5. Cosmia 7:15