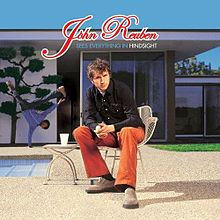 7/10
* * *
I have to be honest. I didn't listen to too much Christian music in high school. The debate rages on to infinity about what constitutes "Christian Music" or if there is even such a thing, but for the majority of high school, I certainly didn't focus on those lines. I focused on finding sounds I enjoyed, and truth be told, most of those sounds came from bands no one would call Christian. I have talked about this already.
Heading into college, I recommitted to my faith and decided a little lyrical reinforcement could help my situation. Thus, I made an earnest effort to find out what had been going on in the Christian music world since I was in the ninth grade. This was also one of the reasons I became interested in hosting KLSU's Christian Rock show. Once I began that job, I had unparalleled access into as much music by Christian artists as I could desire. Well, access to everything but John Reuben's debut, Are We There Yet? For some reason we only had the two singles for that album. All that to say, for some reason, I never heard it, and I never bought it, so starting today, here are reviews for all of John Reuben's albums but that one.
* * *
John Reuben's sophomore album,
Hindsight
, is...a little sophomoric. It's honest, though. Reuben seems to just want to have a good time, with a few breaks to think a little deeper. His goofy sense of humor is at the forefront, and while it may not be everyone's cup of tea, Reuben's frequently expressed wishes to appear authentic most definitely come true. This album is more than just goofing off and clever lines, though. The title track is a genuinely great song (we used the instrumental version for on-air breaks quite frequently), and the album's introspective middle section ranks among some of Reuben's best work. Shoot, who is John Reuben? My bad, I didn't set this up very well. John Reuben is a rapper. In hindsight, I probably should have mentioned that first.
Ditto the top comment on this video. This song has gotten me out of some bad times, as well.
2002 Gotee
1. I'll Try Harder 0:50
2. I John Reu 3:04
3. Hindsight 4:14
4. Big E Cypher Session 0:26
5. Soundman 4:52
6. Run the Night 4:31
7. Breathe 3:52
8. I Pictured It 4:31
9. 01/08/02 1:11
10. Doin' 4:55
11. Thank You 3:58
12. DJ Manuel (Turntablism 101) 1:00
13. Up and at Them 4:16
14. Defensive Offender 3:58
15. Pataskala 3:56