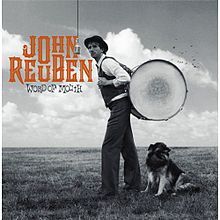 10/10
John Reuben underwent some pretty astounding growth between his second and third albums. Better lyrics, better music. He nearly perfectly balanced his goofier, fun-loving side with his more introspective side, writing better songs than ever. His fourth album then implicitly stated the divide between the two sides, but
The Boy Vs. the Cynic
didn't quite parlay as magical a return. I'm happy to say that album number five,
Word of Mouth
, not only matches the magic of
Professional Rapper
, but far surpasses it.
Word of Mouth
is John Reuben's perfect album.
The very nature of a review goes against the themes of this album, though.
Word of Mouth
is "just music for the kids," according to the very album's title track. Well, in my opinion, Reuben is selling himself short. This is music for the ages. I dig this album as much now as I did half a decade ago. Why? Reuben's lyrics climb another flight of stairs, and the dude's on the roof now. He's witty, he's funny, he's insightful, he's reflective, and he's thinking on a grand scale. Musically, his songs now range from darkly fun to hugely cosmic to adverbingly adverb. Together they form such a well-defined, self-contained musical landscape, getting lost in them is effortless. "Miserable Exaggeration" checks off essentially every sweet-spot on my musical checklist.
1. Begin with a sample of a woman speaking French.
2. Come in heavy with the beat and bassline.
3. Introduce a sexy saxophone line over a silky smooth Rhodes one.
4. Start rapping skillfully about the fact that you think too much.
5. Use the guitar subtly and with the sole purpose of creating atmosphere.
6. Get someone who sounds like they are coming through an old TV set being watched on a distant moon that is just now receiving signals from fifty years ago to sing the chorus.
7. Slam on the bridge.
8. Bring it home by repeating all of the awesomeness one more time.
9. End the song with a delayed fade-out.
10. You win, John Reuben. You just received a ten from The Nicsperiment because the sublimely perfect "Miserable Exaggeration" is emblematic of your entire album, yet in title, does not describe it at all.
2007 Gotee
1. Sing It Like You Mean It 3:06
2. Tryin' Too Hard 3:09
3. Make Money Money 4:29
4. Focus 3:32
5. Word of Mouth 4:04
6. Miserable Exaggeration 3:28
7. Universal 3:42
8. Curiosity 3:18
9. Cool the Underdog 3:27
10. Good Evening 3:53