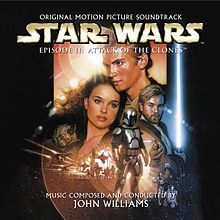 10/10
As I mentioned in the intro article for this trio of prequel score reviews, while these three films can be a bit silly, directed by a guy whose skills in that department are suspect, the soundtracks were composed by a master. John Williams is the greatest film composer of all time and takes every project he signs onto seriously. However, on my first few listens to Williams' Attack of the Clones score, I did not see his master's touch. In fact, between the two soundtracks I purchased in 2002, I listened to Howard Shore's The Lord of the Rings: The Two Towers score far more than this Attack of the Clones score by Williams. To my ears, Williams' work here just sounded like one theme ("Across the Stars," Anakin and Padme's love theme), surrounded by a bunch of nondescript action music in the vein of Temple of Doom, yet without that classic soundtrack's engaging multitude of motifs. I guessed that Williams, 70 then, must have been past his prime. Over the years, the soundtrack gathered dust on my shelf...until I pulled it out for these reviews. After listening to so much of Williams' work over these last few months, though, and being reminded of his incredible genius, I have approached these prequel soundtracks with an open mind, ready to listen without bias.
John Williams' soundtrack for Attack of the Clones is the most subtle and understated of all his work in the Star Wars universe. It also marks a unique spot amongst all the master's produced work, in that the cues are presented largely in the order they were heard in the film. As Williams hasn't really done this before or since, the choice must have been deliberate. Williams intended this chronological listening experience.
After the usual Star Wars titles, Williams introduces the film's most prominent sub theme, which I will simply refer to as the "Dark Mystery" theme. Attack of the Clones is unique among all six Star Wars films in that, until its final act, it exists as an investigation and a romance, rather than a series of chases and battles. Of course, generalizing is dangerous, as the film contains plenty of chases and battles, and the original trilogy had its share of romance, but of all the films, Attack of the Clones is most geared as I have stated. Thus, Williams introduces the film, post opening crawl, with his "Dark Mystery" theme which brings to mind the dark, rolling oceans the theme is often later associated with. This opening track is followed by the only major theme Williams has written for the film, "Across the Stars." While the romance happening onscreen is a bit awkward and forced, Williams stupendous love theme is not. It ranks among the composer's best work, classically romantic, epic, layered, dangerous. The theme goes through several instrumental permutations throughout the film, but is allowed to fully stretch its legs on this second track, and includes a delicate harp ending among the most beautiful of music Williams has ever composed. The track is followed by "Zam the Assassin and the Chase Through Coruscant," one of the longest pieces of music Williams has written, and which sets the tone in style for the rest of Attack of the Clone's action cues. There is no obvious theme throughout the cue's mostly frantic eleven minutes (it switches gears to quiet suspense for the final bit), though a frenetic trumpet motif is repeated several times throughout, threatening to appear a final time before crashing apart as a character's vehicle in the film does the same. This track breaks plenty of new ground for the then eighth decade-entering Williams. His use of percussion in this track is even more dominant than any of his work on The Lost World. Most shockingly, he utilizes electric guitar to invoke the confusion and chaos of the scene, and to add texture. This was a controversial move, but it works well within the piece.
After repeated listens, Williams' intentions with this cue become clear. While he actually does use a subtle motif (as mentioned above), he wants to carefully change the texture of the piece as it moves along, creating a cohesion of developing feelings, rather than a repeating musical pattern. He does the same on track five, "Departing Coruscant," which subtly revolves around a quiet motif before exploding into it at the end, then never using it again.
That's what I mean by understated. Outside of "Across the Stars," few melodies are repeated from scene to scene. Williams develops each piece carefully and meticulously, but each one is mostly self-contained. On repeat listens, one can tell why Williams did this, and why he sequenced the album chronologically. Each of these self-contained tracks subtly shifts in feeling from one to the next, from the dark mystery of the early tracks, to alternating the gentle romance music of Anakin and Padme with the darker, aggressive tones of Obi Wan and Jango Fett's showdowns, to the strange, alien textures of the album's third quarter, to the ending and reprise of "Across the Stars" across the eleven minute "Confrontation with Count Dooku and Finale." Thus, Williams work here as a suite producer is classical and excellent. He presents his main theme, develops it throughout the work, creates a constant changing flow of texture and emotion around it, then comes back for a grand, thorough, final exploration of it. This soundtrack has rewarded repeat listens like few others in my collection. It is indeed a mystery, but one that grows more satisfying as every aspect of it is further investigated. It has grown so much in my estimation, I may even be ready to say I enjoy it more than Howard Shore's work on The Two Towers (though it goes without saying (even though I am saying it now), that The Two Towers is a far superior film to Attack of the Clones).
Star Wars: Episode II: Attack of the Clones (Original Motion Picture Soundtrack)
's mastery of depth, scope, sophistication, and continuous textural and emotional development prove Williams' age is not a detriment, but an asset. This is a great album.
And one final note...Williams shows remarkable restraint here in not repeating previous themes from the saga. "Duel of the Fates" and "The Robot Army Theme" from The Phantom Menace receive but brief mentions, and "Yoda's Theme" and "The Imperial March" appear only for short, appropriate moments, along with a few bursts of the Star Wars "Force Fanfare." Williams only uses these when he absolutely has to, which adds even more unique identity to this special score. Man, not rehashing old stuff unless you have to...somebody should take notes...
2002 Sony Classical
1. Star Wars Main Title and Ambush on Coruscant 3:46
2. Across the Stars (Love Theme from Attack of the Clones) 5:33
3. Zam the Assassin and the Chase Through Coruscant 11:07
4. Yoda and the Younglings 3:55
5. Departing Coruscant 1:44
6. Anakin and Padmé 3:57
7. Jango's Escape 3:48
8. The Meadow Picnic 4:14
9. Bounty Hunter's Pursuit 3:23
10. Return to Tatooine 6:57
11. The Tusken Camp and the Homestead 5:54
12. Love Pledge and the Arena 8:29
13. Confrontation with Count Dooku and Finale 10:45