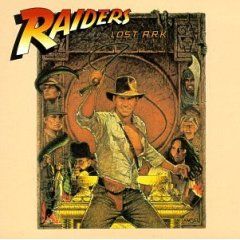 10/10
Like any kid born in the late 70's and early 80's, I watched Raiders of the Lost Ark approximately 500 times. During my 20's, I had the opportunity to see a midnight showing of Raiders of the Lost Ark in the theater, and I possibly enjoyed it then even more than I did when I was eight. Hearing John Williams score for the film pumping out of the theater's surround sound speakers may have been the biggest thrill of all. Williams' Raiders of the Lost Ark score came at a time where he could do absolutely no wrong, immediately following, Jaws, Star Wars, Close Encounters of the Third Kind, Jaws II (Williams' score and Roy Scheider's PTSD-inspired performance almost make that film worth watching), Superman: The Movie, and The Empire Strikes Back. Raiders' soundtrack also directly precedes Williams' score for E.T. In other words, Williams' is either an alien, or the most talented composer who has ever lived (not slighting
Bernard Herrmann
, a fellow space alien). Raiders of the Lost Ark ranks among the multitude of Williams' best work.
Raiders' soundtrack is best known for being evocatively globetrotting, and for the distinctive nature of its themes (Indy's heroic "Raiders March," "The Medallion"'s mysterious energy, the lush, seductive "Marion's Theme," and the horrific majesty of "The Miracle of the Ark."). While all of that stuff is great, the skill with which Williams backs Raiders' cavalcade of action beats is the score's underrated treasure. My personal favorite is "Desert Chase," which highlights my favorite aspect of the Indiana Jones character: his vulnerability. In this scene, Jones goes from foot, to horseback, to truckback, to in the truck, to out the truck, to under the truck, to behind the truck, to on and in the truck again. In the meantime, he takes a beating and a bullet. Through it all, he seems to be in real danger, when he gets hurt, he seems to have really gotten hurt, and when he is victorious, he seems to have really earned it. While Harrison Ford's performance and Steven Spielberg's direction cannot at all be discounted(they are, as they should be, legendary), the scene would not be as thrilling, or hold quite the timeless power, without the music of John Williams.
NOTE:
This is a review of the 1995 DCC Compact Classics release of Raiders of the Lost Ark's soundtrack. It was released again in 2008 by Concord Records. The 2008 release includes a few minutes of music not included in this 1995 edition, but it also trims "Desert Chase" by nearly a minute. As noted in the review, "Desert Chase" is my favorite cue in the film, and thus, the DCC release is my edition of choice, and the one reviewed here.
1981/1995 DCC Compact Classics, Inc.
1. The Raiders March 2:50
2. Main Title: South America, 1936 4:10
3. In the Idol's Temple 5:26
4. Flight from Peru 2:20
5. Journey to Nepal 2:11
6. The Medallion 2:55
7. To Cairo 1:29
8. The Basket Game 5:04
9. The Map Room: Dawn 3:52
10. Reunion and the Dig Begins 4:10
11. The Well of the Souls 5:28
12. Airplane Fight 4:37
13. Desert Chase 8:15
14. Marion's Theme 2:08
15. The German Sub/To the Nazi Hideout 4:32
16. Ark Trek 1:33
17. The Miracle of the Ark 6:05
18. The Warehouse 0:56
19. End Credits 5:20