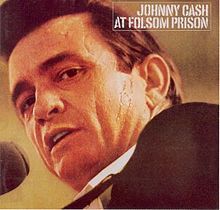 10/10
The hardest reviews to write are reviews for albums people have been lauding for 45 years that you want to laud. People have already said what you want to say, and probably better. But hey, I got that dreaded first sentence out of the way, so I'll just talk about why I think Johnny Cash's
At Folsom Prison
is perfect. Shoot, I'll just make a list of three things, even though I haven't thought of all three things yet.
1. There is so much goodwill and there are so many good vibes flowing out of this album, it is ridiculous. Cash's compassion, empathy, and identification with his audience here is impossible to fake. He sings plenty of songs about prisoners throughout this set list, and he sings each song with such conviction, it seems as if he himself is incarcerated in Folsom. His repartee with the inmates is also excellent without, as he cracks up at every audible inappropriate inmate comment loud enough for him to hear, and he often has the perfect companion to go along with it.
2. Every facet of Cash's pre-70's music career is well-represented on this album. His fast-paced rowdier performances shine trough on "25 Minutes to Go," "Orange Blossom Special," "I Got Stripes," and "Cocaine Blues," the latter of which drains Cash's voice to the point that he has to demand a glass of prison water. His more thoughtful side shines through on performances of "Dark as a Dungeon," "The Long Black Veil," "Green, Green Grass of Home," and "The Wall." His crass, yet delightful sense of humor shines through on "Dirty Old Egg-Suckin' Dog," "Flushed From the Bathroom of Your Heart," and "Joe Bean." He gets to duet with his wife, June Carter Cash, on "Jackson." Finally, he gets to express his spiritual side on the set-closer, "Greystone Chapel." No greatest hits album could cover every side of Cash's persona like
At Folsom Prison
does. I realize that was an absolute statement, and I have no way to back it up, but I'm reviewing a greatest hits compilation of Cash's work tomorrow that definitely does.
3. Wait, let me think for a second...
I want to stop at three, so let's just do a combination here. First, let's talk about the quality of the songs themselves. Cash shows off his thoughtful nature and storytelling skills throughout
At Folsom Prison
, whether its one of his originals, or a song written by someone else. When Cash sings "I was in the arm's of my best friend's wife" during the tale of the classic country ballad, "The Long Black Veil," he makes the listener (or this listener) believe that The Man in Black is as well-acquainted with shame as the original author of the song, and the song's protagonist. This is the Cash I remember most fondly as a child. Singing a story. More about that tomorrow. Let's end this review with a big bubbly statement:
At Folsom Prison
's greatest quality is its transformative transcendance. I don't even know if that made sense. I just know that I definitely feel better during the final notes of
At Folsom Prison
than I did before I put the album in my player. Maybe that's because, after listening to 18 songs about lowlifes and lowlife (that word combination makes me want to eat some Life cereal), when I myself am feeling low, the final lines feel like redemption.
Inside the walls of prison, my body may be
But my Lord has set my spirit free
1968/1999 Columbia
1. Folsom Prison Blues 2:42
2. Busted 1:25
3. Dark as a Dungeon 3:04
4. I Still Miss Someone 1:38
5. Cocaine Blues 3:01
6. 25 Minutes to Go 3:31
7. Orange Blossom Special 3:01
8. The Long Black Veil 3:58
9. Send a Picture of Mother 2:10
10. The Wall 1:36
11. Dirty Old Egg-Suckin' Dog 1:30
12. Flushed From the Bathroom of Your Heart 2:17
13. Joe Bean 2:25
14. Jackson (with June Carter) 3:12
15. Give My Love to Rose (with June Carter) 2:41
16. I Got Stripes 1:57
17. The Legend of John Henry's Hammer 7:08
18. Green, Green Grass of Home 2:29
19. Greystone Chapel 6:02