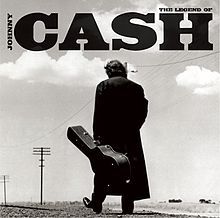 7/10
Any time my parents' wanted to get away for a week or two, they knew they could count on my grandparents to fill in. This meant a change in nightly entertainment. This meant I was in for a televised nightmare:
The Grand Ole Opry.
While I loved my grandparents, and I loved spending time with them, I did not love the Grand Ole Opry. I did not think it was "Grand," nor did I understand why the one apt description, "Ole," was spelled incorrectly. Thanks a lot, Nashville Network (
AND THEY'VE BROUGHT IT BACK
). However, when you are stuck in this type of situation, you generally find things to like. I found two performers I enjoyed for two very different reasons:
Johnny Cash, because he seemed like the coolest human being on Earth.
Dolly Parton, because of her enormous knockers (I also thought she was hilarious).
Only one of these artists' favorable characteristics carried over to their music(though it would be awesome if Dolly Parton sang a bunch of comedic songs about boobs), so thirty years later, I only find myself listening to Johnny Cash. With a reasonable knowledge of his musical history, I can say that this posthumously released greatest hits collection, "The Legend of Johnny Cash," could be re-titled without the word "Johnny," and still be aptly named.
This 2005 collection was obviously thrown together to hook the nostalgic viewers of the recent hit film, Walk the Line. Well, they caught and reeled me in because after two Walk the Line viewings and a lot of goodwill to my memories of Johnny, I picked up The Legend of Johnny Cash. I was disappointed to find that this group of songs neither represents Cash's best work, nor nearly all the facets of his musical career. The Legend of Johnny Cash is more a summation of Cash's popular side, a chronological offering of some of his most well songs, and most famous collaborations. His more raw, fiery side is completely ignored, along with his eclecticism. His well-documented sense of humor is only nodded at in a recording of Shel Silverstein's "A Boy Named Sue." So on a literal basis, the title of this album is a lie.
The Legend of Johnny Cash
is not told.
However, there is a significant level on which this album works. It works as a voyage through time, and a journey through advancing recording techniques. It's (I hate the word "fascinating," so much. Just think of a word equitable to fascinating, and put that word here) to hear recording techniques improve over time through the fifty-year lens of Cash's music. "Cry! Cry! Cry!," recorded in 1955, sounds like it is coming from another room. The drums are non-existent, as they were not in fashion in country music. A few years later, they were still out of style (Cash had to place a sheet of paper beneath his guitar strings to create a snare sound for "Walk the Line."). Drums eventually come into fashion, just as Cash comes from the kitchen into your living room. By the end, as the album closes with some of Cash's late 90's and early 00's work with Rick Rubin, Cash sounds old as leather and clean as a whistle. Speaking of Rick Rubin, this collection does end perfectly with perhaps the greatest recording of Johnny Cash's career. The song is "Hurt," originally written and recorded flawlessly by Trent Reznor for the landmark
The Downward Spiral
, but somehow, miraculously, improved by Rubin and Cash. It astonishingly sums up everything Cash was about and believed in at the end of his life, just as Reznor's recording summed up his fears and failures as a much younger man, though the two men are singing about distinctly different things. As a career capper (This was recorded for the last collection of new material by Cash before his death, though several albums were released posthumously, and they are quite good, and I am going to review them, and I love run-on parentheticals), you can't do much better than this.
Break out the Kleenex.
2005 Hip-O Records
1. Cry! Cry! Cry! 2:24
2. Hey, Porter 2:13
3. Folsom Prison Blues 2:49
4. I Walk the Line 2:45
5. Get Rhythm 2:14
6. Big River 2:32
7. Guess Things Happen That Way 1:51
8. Ring of Fire 2:37
9. Jackson 2:46
10. A Boy Named Sue 3:46
11. Sunday Mornin' Comin' Down 4:07
12. Man in Black 2:52
13. One Piece at a Time 4:02
14. Highwayman (With Willie Nelson/Waylon Jennings/Kris Kristofferson) 3:03
15. The Wanderer (With U2) 4:45
16. Delia's Gone 2:19
17. Rusty Cage 2:49
18. I've Been Everywhere 3:16
19. Give My Love to Rose 3:27
20. The Man Comes Around (Early Take) 3:50
21. Hurt 3:38