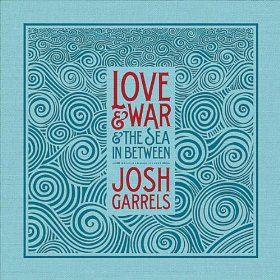 10/10
I don't like folk music. Sorry, I guess. I don't like bluegrass, or any of that stuff, either. It puts me to sleep. Following this logic, I should not like Josh Garrels' music, but music and logic have little to do with one another. Josh Garrels began creating
Love & War & the Sea In Between
during a time of change, and with a fire in his belly. This album is brimming with energy, and a combative feeling against stagnancy. The care and thought Garrels put into each of these tracks is as apparent first listen as it is on the 30th. The opening tracks are brimming with mystery, and then Garrels raps in a faux British accent. This should be terrible, but the clear auditory fact that it is not proves Garrels recorded this album in the mythical "zone," where he could do no wrong. Everything he throws at the wall sticks, and the complete painting is just as beautiful as the individual parts. Even during
Love & War's...
relaxed middle, which should stagnate and put me to sleep, Garrels gently swirls the waters of sound. In less pretentious terms, even the slow, chill songs aren't boring, feel dangerous. Everything works. Garrels even uses these softer tones to build back up to a climax worthy of an eighteen song opus, before gracefully sailing off into the night.
Love & War & the Sea In Between
is a remarkable achievement in musical artistry, and its power and beauty have dulled none in the three years since its release. I am as taken aback by its brilliance now as I was in the distant summer of 2011.
2011 Self-Released
1 White Owl 5:47
2 Flood Waters 3:17
3 Farther Along 5:04
4 A Far-Off Hope 2:45
5 The Resistance 4:42
6 Slip Away 4:28
7 Sailor's Waltz 1:42
8 Ulysses 4:16
9 Beyond the Blue 4:05
10 For You 2:32
11 Million Miles 4:31
12 Bread & Wine 3:54
13 No Man's Land 2:10
14 Rise 4:43
15 The March 2:31
16 Revelator 4:49
17 Pilot Me 3:11
18 Processional 1:38