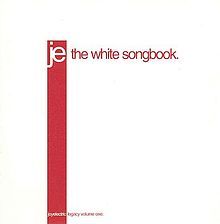 10/10
The second artist featured in this review trilogy of artists in "the zone" is Ronnie Martin, who writes music under the moniker "Joy Electric." Martin was unfortunately born both 15 years to late and 15 years too early, as he could have easily composed music for NES games in the 80's, or could have easily struck it big in today's burgeoning "
chiptunes
" scene. Instead, he has labored for a largely indifferent populace since the mid-90's, producing some really incredible synthpop music for those interested and in-the-know. While Martin has released some excellent work, 2001's
The White Songbook
really stands head and shoulders above the rest.
The White Songbook
is the first album in Martin's "Legacy" series, as well as the first to be created using one sole synthesizer, in this case the Roland System 100. The album sounds like the soundtrack to an old video game set in a winter wonderland of snow and candy-canes, crossed with Ronnie Martin's emotive, Depeche Mode-quality vocal hooks. From interviews I've read,
The White Songbook
's creation was quite a trying experience for Martin. Being in the zone isn't always a pleasant experience, but all of the blood Martin shed on the keyboard pays off immensely. Each song is so meticulously well-crafted, Martin's programming skills seem virtuoso. The diversity he displays, despite using only one instrument, two including his voice, is astounding. From restful to aggressive, pensive to angry,
The White Songbook
runs the gamut of emotional tones. Martin conjures fanciful imagery at times, and soul-baring emotion at others (as a bonus, the album ends with one of the greatest non-sequiturs of all time). For an album entirely composed on a keyboard from the mid-70's,
The White Songbook
contains a timeless everything. 474 views. This Earth isn't fair.
2001 BEC Recordings
1. The White Songbook 4:15
2. Shepherds of the Northern Pasture 6:12
3. And Without Help We Perish 5:12
4. The Boy Who Never Forgot 3:51
5. Unicornucopia 6:42
6. Hunter Green and Other Histories 1:39
7. A New Pirate Traditional 3:42
8. We Are Rock 3:35
9. The Good Will Not Be Cloned or Why Should the Christians Get All the Bad Music 3:33
10. As Children We Are Growing Younger 1:41
11. Sing Once for Me 6:31
12. The Heritage Bough 6:45
13. A Frog in the Pond 0:27
14. The Songbook Tells All 6:29