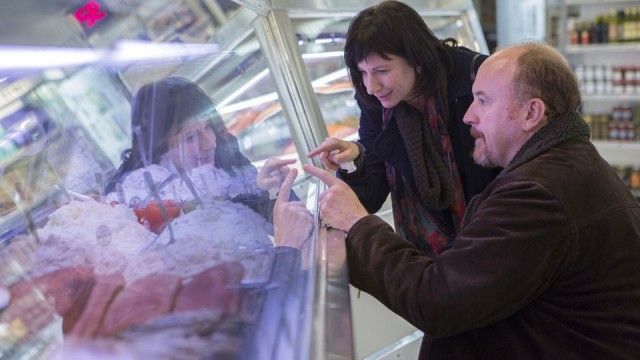 Louie
2014 FX Networks
Season Four
Score: 9/10
I recently caught a repeat of the last few season three episodes of FX's Louie. FX re-aired the episodes in anticipation of the show's then upcoming fourth season. I really enjoyed them, remembered I have DVR now, and set the upcoming season to record. It ended Monday.
Wow. Louie is a really great show. I can't speak for the first two-and-a-half seasons, which I've never seen, but the last season-and-a-half has been absolutely incredible. I thought that Louie was simply a sketch comedy, but these last 17 episodes have been close to pure narrative drama, with sparing, but solid laughs. This season includes a six-part arc (essentially two-hour movie length) about Louie's attempts at a romantic relationship with a non-English speaking Hungarian woman. This arc also dissects at length Louie's struggles as a parent, why his previous marriage failed, the effect everything has had on the his children, as well as Louie's usual themes of loneliness, depression, and the longing for connection. The quality of these episodes blew me away, but the runaway winner is the season's penultimate episode, "Into the Woods." An extended length episode(90 minutes, versus the show's usual 30), "Into the Woods" is an exploration of Louie's 13th year of life. It is about as unflinching a view of the shift from adolescence to teen years as I've seen. The most incredible thing about "...Woods" is that Louie's star, director, writer, producer, and editor, Louis CK (yes he does everything), only appears onscreen for a total of five minutes. CK experiments like this throughout the season, like a French New Wave maestro somehow born in the late 60's.
I haven't even mentioned the show's greatest strong-suit: it is beautiful. Everything from a trip to the market, to eating at a restaurant, to walking up the stairs is filmed and edited together as the most wonderful and joyous experience in which a human being can partake. The season finale's final scene kind of knocks this idea out of the park, as an emotionally scarred Louie is asked to join another character in a bath. Reticent at first, Louie literally takes off his baggage and gets in, his volume displacing waterfalls over the edge and flooding the tiles to his and the other character's startled amusement. The metaphor is rapturous -- if you are willing, there is always more water than you need.