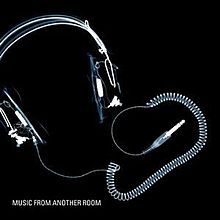 8/10
The Juliana Theory's
Music From Another Room
is another piece of great early 00's work, this time in short form.
The week my best friend died in a car accident, I bought three albums: Blindside's Self-Titled debut, my own personal copy of The Juliana Theory's
Emotion Is Dead
, as well as The Juliana Theory's freshly released EP,
Music From Another Room
(I also listened to "Grace" by U2 several hundred times). For whatever reason,
Music from Another Room
really hit the spot. The EP's sound, rock, just polished enough, beat heavy, with a discernible Pink-Floyd if they were a post-punk band influence, is a natural continuation of
Emotion Is Dead
, which was released only a year before.
Music From Another Room
kicks off with the near progressive-rock epic, "This Is the End of Your Life," which features the heaviest of the previously-mentioned Floyd influence. It's a great song, maybe The Juliana Theory's crowning achievement, kicking off with some pretty psychedelic keyboards before the full band suddenly blazes brightly to life. From there, the song is a great study in quiet to loud dynamics (used far more naturally than the alliteration in the previous sentence), as well as using the bridge to create tension. "This Is the End of Your Life" is followed by the emotional, but musically gentler, "Moments...," succeeded by "In a Fraction," which effectively functions as its tremolo-heavy outro. "Liability" then kicks off with a bang, featuring a techno-charged intro (which is actually pretty shocking, and shockingly effective) that leads into one of the angriest songs The Juliana Theory ever recorded. The chorus is
We know you're lying through your teeth
, with "you" being the government. Though my recently deceased buddy was a serviceman, the military played no cause in his death. For some reason, this song still proved quite cathartic for me. "Liability" segues pretty naturally into the ascendant "Breathing by Wires," a song which lyrically sounds a bit silly in this day and age. Frontman, Brett Detar, calls out computer addicts, but the 2001 version of him would be horrified to see most of today's population's faces glued to the CPU-fueled glow of their cell-phones.
The EP is closed by an older-written Juliana Theory track, "Piano Song." Detar himself admits in the liner notes that the song doesn't quite fit with the other five tracks, and it doesn't. It's a piano-led ode to a friend going through hard times. The whole band shows up for the song's climax, and it really isn't a bad track. Its odd out-of-place-ness actually makes for a strangely fitting finale. And we're done.
Someone 3-D sounded this song. I'm not sure what that means, but cool.
2001 Tooth & Nail
1. This Is the End of Your Life 5:53
2. Moments... 4:11
3. In a Fraction 1:40
4. Liability 5:23
5. Breathing by Wires 3:51
6. Piano Song 6:33