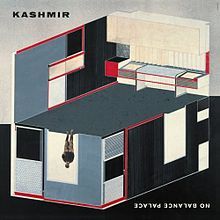 9/10
Now here is a tough, wicked little masterpiece.
On No Balance Palace
, Danish rockers, Kashmir, bring some darker-toned electric-guitar picking to the forefront of their once sunnier sound, and tell a subtle tale of light vs darkness in everyday city life. The devil lives in an apartment at the top of a black, abandoned building on the corner, throwing trash from the window onto the street below. Almost everyone parties the days away under a disco ball, oblivious, never noticing that sometimes Lucifer has come down to stand in the corner and watch. Best to drive on. Just don't pass up this album.
2005 Sony/Columbia
1. Kalifornia 5:27
2. Jewel Drop 4:20
3. The Cynic (featuring David Bowie) 4:22
4. Ophelia 3:56
5. Diana Ross 0:31
6. The Curse of Being a Girl 3:39
7. She's Made of Chalk 5:05
8. Ether 5:21
9. Snowman 3:14
10. Black Building (featuring Lou Reed) 1:58
11. No Balance Palace 8:03