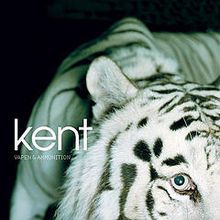 10/10
Here's a sublime 45-minute slice of music. Kent's
Vapen and & Ammunition
is a relaxed, definitive take on everything Kent, the most popular Swedish rock band of all time, are capable of doing. The faster-paced songs have attitude and vision, the ballads are assured and confident, and the whole thing sounds great. Whether it's guest female vocals, whistling, or slide guitar, every touch is perfect, and the songs are excellent. Kent set out to write an album of ten singles, and perhaps serendipitously, these ten songs fit together seamlessly. The band are so confident this time around, they eschew the usual eight-minute jammy closer for an under three-minute acoustic track, "Sverige." A tribute, and perhaps, light critique on Kent's native country, "Sverige" is...well, I already used the word "sublime," but there really isn't a more fitting one.
The album, and perhaps the band's crowing achievement, though, is
Vapen & Ammunition
's seven track, "Socker." It invokes a multitude of complicated emotions: bitterness, loneliness, distraction, disappointment, disconnection, and displeasure, yet does so with such
attitude
, the song is imminently enjoyable on multiple levels (it is also so lyrically complex enough to defy translation).
Vapen & Ammunition
is by no means a downer, nor is "Socker," but the way Kent are able to convey even negative feelings in such a catchy, enjoyable package speaks miles to their talent and ability.
Vapen & Ammunition
might just be Kent's masterwork.
2002 RCA/BMG
1. Sundance Kid 5:09
2. Pärlor (Pearls) 3:56
3. Dom andra 3:46
4. Duett (Duet) 4:42
5. Hur jag fick dig att älska mig (How I Made You Love Me) 5:22
6. Kärleken väntar (Love Waits) 3:59
7. Socker (Sugar) 5:35
8. FF 4:13
9. Elite 6:05
10. Sverige (Sweden) 2:59