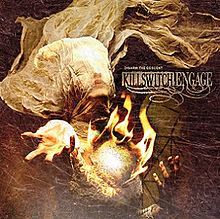 8/10
Killswitch Engage's sixth album,
Disarm the Descent
, features the band reunited with their original frontman, Jesse Leach. After three albums of work with the band, vocalist, Howard Jones, had to leave because of personal illness. The band turned to Leach to fill Jones' formidable shoes...after Jones had already filled his. This move pays off, as
Disarm the Descent
displays a re-energized band (even the guitar solos sound faster), even if Killswitch Engage aren't doing anything differently. Outside of the scream-less ballad, "Always," and some stunning blast beats on "The Call," this is the same melodic metalcore, with the same basic song structures, and the same positive, vaguely spiritual lyrics as Killswitch Engage's past albums. Still, few bands are making this particular style of music anywhere near as well as Killswitch, and Killswitch sound extremely pleased to be making it. These factors give
Disarm the Descent
a freshness lacking in Killswitch's peer's work. Hope you're cool with a double possessive. Here are some happy dudes.
2013 Roadrunner
1. The Hell in Me 2:57
2. Beyond the Flames 2:53
3. The New Awakening 3:30
4. In Due Time 3:18
5. A Tribute to the Fallen 4:02
6. Turning Point 3:12
7. All We Have 3:20
8. You Don't Bleed for Me 3:20
9. The Call 2:50
10. No End in Sight 3:29
11. Always 4:33
12. Time Will Not Remain 3:13