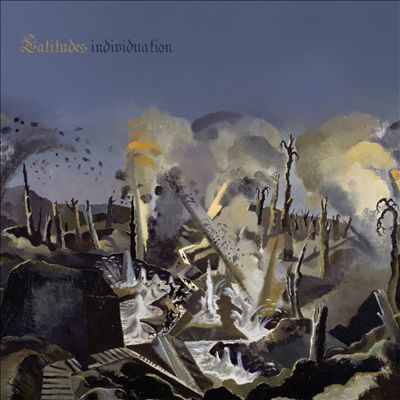 9/10
Now here's a good one. Though Latitudes'
Individuation
comes from an unknown British band on a tiny label, it feels like a landmark album. Only three of its tracks feature vocals, and only one clocks in at under five minutes. I say
Individuation
sounds like a landmark release because most other "instrumental" rock albums follow a similar sound. They generally feature twinkly guitars, uplifting chord progressions, a build up and a release.
Individuation
is not twinkly. The guitars are heavy and complex, when they aren't suddenly slowing to thicken the atmosphere. The drums sound like a particularly sonorous avalanche. A Moog Synthesizer adds a sense of dread. This album's mood is not uplifting.
Individuation
is terrifying.
With that said, unlike some laboriously serious instrumental albums,
Individuation
is also incredible fun. I've saved its most original touch for last, though.
This is an instrumental album with vocals.
Latitudes' singer only pops up on "Imitation Ruin," "Shapeshifting," and "The Glacial Body", but he is
Individuation
's key instrument. While his haunting falsetto brings even more creepy atmosphere to the table, it's also a bit of a breather throughout the album, popping up when the music quiets down, then dissipating when the chaos returns. This is original stuff. I can't recommend it enough.
2012 Shelsmusic
1. Hyperstatic Forge 6:54
2. Imitation Ruin 9:20
3. Vortice of Malady 7:12
4. Isleward 2:35
5. Shapeshifting 8:27
6. Metabolic Pathways 5:53
7. The Glacial Body 7:25
8. Individuation (Telos) 10:23