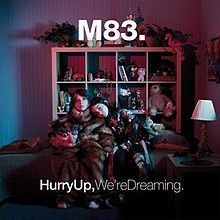 9/10
M83's double-album,
Hurry Up, We're Dreaming
, is jubiliant and lovely. It features several key differences from its predecessor,
Saturdays = Youth
: it does not feature any 10-minute instrumentals solely consisting of two alternating keyboard notes, it flows perfectly, and it includes better, bigger-sounding songs. Actually,
Hurry Up, We're Dreaming
sounds huge.
I remember an October 2011 night drive with my wife and nearly two-year old son, heading from a wedding rehearsal to a distant restaraunt, blasting this album, everything feeling enormous and wonderful, brilliant payoff to a brilliant year. This is that kind of album. Giant synths, atmospheric guitars, big beats, children telling stories about frogs, funk-slap bass, dreamy lyrics, saxophones. Anthony Gonzales is going to have a tough time topping this one.
2011 Naive/Mute
Disc One
1. Intro 5:22
2. Midnight City 4:03
3. Reunion 3:55
4. Where the Boats Go 1:46
5. Wait 5:43
6. Raconte-moi une histoire 4:04
7. Train to Pluton 1:15
8. Claudia Lewis 4:31
9. This Bright Flash 2:23
10. When Will You Come Home? 1:23
11. Soon, My Friend 3:09
Disc Two
1. My Tears Are Becoming a Sea 2:31
2. New Map 4:22
3. OK Pal 3:58
4. Another Wave from You 1:53
5. Splendor 5:06
6. Year One, One UFO 3:17
7. Fountains 1:21
8. Steve McQueen 3:48
9. Echoes of Mine 3:39
10. Klaus I Love You 1:44
11. Outro 4:07