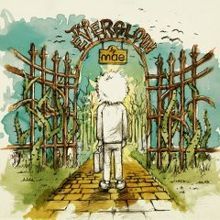 9/10
Mae's first album,
Destination Beautiful
, is just a little too weak for me. Really smooth, bouncy singing, poppy songs, overly simplistic drums. However,
Destination Beautiful
has its moments, particularly "Summertime," which proves that Mae can rock out if they want to. On sophomore album,
The Everglow
, they want to, but not too hard, and that's okay. The reason it's okay? Because there aren't many albums that can produce the kind of feelings
The Everglow
can? What kind of feelings?
Yes, this is one of those wonderful Nicsperiment Q&A reviews. I never actually plan them as such...sometimes they just come out this way. Anyway, what kind of feelings?
WARNING: I'm not gonna put any commas in the following sentence. You know that moment when you tell a girl you like her and then there's that excruciating but wonderful moment immediately after where you wait for her to say that she likes you back?
That's this entire album, with the added bonus of having that "she said yes" high included.
My cousin Jared had The Everglow's "The Sun and the Moon" played at his wedding, as his soon to be wife walked down the isle toward him--perfect, as there is that "Is she going to not show up" moment, immediately followed by that "Wow, she did show up, and she dressed for the occasion!" one.
2005 Tooth & Nail Records
1. Prologue 1:16
2. We're So Far Away 3:50
3. Someone Else's Arms 5:09
4. Suspension 4:00
5. This Is the Countdown 3:57
6. Painless 4:20
7. The Ocean 4:41
8. Breakdown 4:14
9. Mistakes We Knew We Were Making 5:07
10. Cover Me 4:34
11. The Everglow 3:28
12. Ready and Waiting to Fall 4:21
13. Anything 4:03
14. The Sun and the Moon 7:16
15. Epilogue 0:54