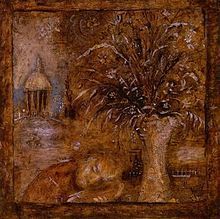 9/10
I understand some things in 2015 that I did not back in 2002. Here is one of those things: I don't know a single person older than me who enjoyed mewithoutYou's
[A→B] Life
. The most frequent comment I remember hearing from older 2002 folks in regard to mewithoutYou was, "I don't know,
I just don't get it
." Back then, I didn't get them not getting it. How could you not like this new band, mewithoutYou? Thirteen years later, I can imagine hearing the band for the first time as a 33-year old, instead of as a 20-year old. My first thought now would be,
why is this dude yelling at me so angstily
? My second, following suit, would be,
why are this dude's relationship so torturous
? Of course, as a 20-year old, I just accepted Aaron Weiss vocal delivery as normal, an expression of everyday emotions.
Okay, old people, I get it now.
It's kind of weird.
Weiss' lyrics and lyrical delivery have grown increasingly less tortured over time. I've heard a rumor he's even married now. During the summer of 2002, though, he was not. He was a tortured young man yelling at you and God over some messed up female relationship he was mixed up in.
Weiss' performance is so immediate, you pretty much know if this is a ride you want to take after
[A→B] Life
's first two minutes. I enjoy the passion in Weiss' voice still, and while his 13-year old lyrics sound a little overwrought to my adult ears, they aren't much of a detriment to my enjoyment of Weiss' riot act. However, with less emotional stake in the lyrics, I find that I am able to better focus on the intricacies of
[A→B] Life
's music. Listening differently has revealed
[A→B] Life
's unsung hero (literally, he does not sing): Weiss' brother, Michael. During my
Cornerstone 2002 experience
, I literally (accidentally) ran into Michael in Zao's tent, and he went down like a really thin sack of wet noodles. By the way, I am literally declaring 2015 as the Nicsperiment's "Year of Literally," as I take back the word from decades of misuse...literally. Michael Weiss didn't look like much, lying on his back, deeply confused as to why someone would run stock over him (I REALLY wanted to see Zao). Turns out I almost took out mewithoutYou's star player.
While Aaron Weiss' passionate shouting is
[A→B] Life
's most unique (and since most copied) aspect, Michael Weiss' guitar-playing is what really sets mewithoutYou ahead of the pack. Check the variety, energy, and atmosphere he injects into each song. His effect-laden intro to open the album creates a sense of urgency before exploding into descending, distorted, and discordant riffs. Michael brings so much to each song. My longtime favorite from
[A→B] Life
, the melodramatically titled* "Everything Was Beautiful and Nothing Hurt," is an absolute showcase for Michael's skill and diverse ability. The song begins with a meditative, softly played guitar line, like a drizzle on a tin roof, growing stormier and stormier. Suddenly, the clouds burst, and the guitar lines are thick stitches of lightning, peeling impressionistic paint off the ceiling. His guitar is like a vessel that doesn't necessarily contain his brother's voice so much as shepherd it on to the next shift of emotion. The rest of the band performs ably, with longtime drummer, Richard Mazzotta, acquitting himself particularly well. Bassist (for only mewithoutYou's first two albums), Greg Jehanian, throws out some nice, Australian-sounding background vocals, even singing lead on a hidden acoustic version of "I Never Said That I Was Brave" at the end of the album. Christopher Kleinberg fills out the band's sound nicely on second guitar, though I'm not exactly sure what he added to
[A→B] Life
(for all I know, his contributions might be substantial). I think I'm done reviewing this now.
*
Yeah...I'm not a Vonnegut fan.
*
2002 Tooth & Nail Records
1. Bullet to Binary 2:47
2. The Ghost 3:13
3. Nice and Blue 3:54
4. Everything Was Beautiful and Nothing Hurt 4:44
5. (A) 0:54
6. Gentlemen 2:49
7. Be Still, Child 2:41
8. We Know Who Our Enemies Are 2:58
9. I Never Said That I Was Brave 3:01
10. (B) 1:34
11. Silencer 3:49
12. The Cure for Pain 15:08