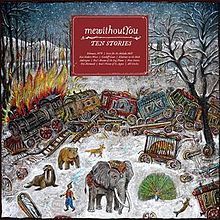 9/10
Here I am on the last one, and it doesn't even feel like I've written a single review. I must hold a really strange place in my mind and heart for mewithoutYou.
Ten Stories
is mewithoutYou's fifth album. Album number four,
It's All Crazy! It's All False! It's All a Dream! It's Alright
, took the band from super-buzzed upon, about to explode, to "hey, what happened to mewithoutYou?" The band's remaining fans, outside of the ten who actually liked
It's All Crazy...
, had one simple demand for the next album:
please don't do that again!
People are generally more demanding than that, though, so it was actually more like:
please don't do that again, and also, remake either your first or second album, please!
mewithoutYou do an admirable job on
Ten Stories
of "don't do that again," but no self-respecting band could have abided by that second request. Musically, I don't think this (continuing to forge a new sound) hurts the band.
Ten Stories
explores a gentler, more ornate sound than any of the band's previous albums. Songs like "East Enders Wives" and "Aubergine" are hypnotic in their quiet beauty. However,
Ten Stories
is not afraid to get its hands dirty...
SHIT! I hate this review! I hate all these mewithoutYou reviews! I've done a horrible job!!! These are the worst! Generally, when I have to resort to non-ironic profanity, my reviewing skill has hit rock bottom! Dammit, mewithoutYou, you've triggered an existential crisis!
Here's the lowdown:
Ten Stories
sounds a bit more sophisticated than mewithoutYou's previous work. I never would have thought the band were capable of sounding as pretty as they do on
Ten Stories
' softer songs--but overall,
Ten Stories
isn't a soft album. The guitars are thankfully distorted again throughout. No more
It's All Crazy
's acoustic nonsense. mewithoutYou have wisely realized that they are not an acoustic band.
Ten Stories
isn't a heavy album, though. The rock here is a more whimsical than aggressive. On, say, "Cardiff Giant," Michael Weiss sounds like he is playing his guitar while riding a Ferris wheel. His brother, vocalist, Aaron, obliges with an equally whimsical chorus, "I wonder if I've already died." Weiss' vocal performance on
Ten Stories
might be his best yet, as he effortlessly switches from spoken-word, to singing, to his trademark-shouted delivery. Unfortunately, his lyrics don't quite meet the same standard. They
NO, THE NICSPERIMENT! YOU'RE WRONG!!!
What? Who said that?
IT IS I! THE NICSPERIMENT FROM THE FUTURE!!!
How far in the future? Wait, what?
THAT'S RIGHT! THE FUTURE! ONE WEEK INTO THE FUTURE!!!
But...how? Why have you come here?!
TO TELL YOU, THE NICSPERIMENT FROM ONE WEEK AGO. TO TELL YOU...YOU ARE WRONG!!!
Wrong? About what? I can't even remember what I was saying!
EXACTLY! YOUR FEELINGS ARE TEMPORAL! JUST AS MEWITHOUTYOU'S SOUND CONTINUES TO EVOLVE, SO DO YOUR FEELINGS ABOUT THEIR MUSIC.
But...what do you mean?
I MEAN, YOU ARE MAKING JUDGEMENT'S ON WEISS' LYRICS, BUT NEGLECTING TO GO BACK AND READ THE CD BOOKLET. IF YOU DO, YOU'LL NOT ONLY SEE HOW INTRICATELY WRITTEN THEY ARE, BUT ALSO WHAT CHARACTERS IN WEISS' NARRATIVE ARE SPEAKING AT ANY GIVEN TIME.
So that helps make sense of this thing?
YES! YOU KNEW THIS THREE YEARS AGO, BUT YOU'VE FORGOTTEN. A LOT HAS HAPPENED TO YOU SINCE THEN.
Has a lot happened to me in the coming week?
NOT REALLY. YOU WATCH EXCALIBUR FOR THE FIRST TIME IN NEARLY SIXTEEN YEARS. IT IS STILL REALLY BADASS.
Yeah, that movie is awesome!
YEAH IT IS. IT IS SO AWESOME. BUT BACK TO MEWITHOUT YOU. YOU'LL ALSO DISCOVER THAT LISTENERS HAVE SPENT THE LAST THREE YEARS BREAKING DOWN WEISS' TEN STORIES LYRICS AND DECIPHERING THEIR MEANINGS. THE THOUGHTS ON GENIUS.COM, FOR EXAMPLE, ARE QUITE ILLUMINATING.
Have they made sense of any of it?
YES. BUT THEY ARE SO DEEP AND WELL-CONSIDERED, NO ONE MAY EVER CATCH EVERY REFERENCE HE MAKES, AND DOUBLE MEANING HIS LINES CONTAIN. HOWEVER, WITH A LITTLE THOUGHT, THE NARRATIVE BECOMES CLEAR. TEN STORIES IS THE TALE OF A TRAIN FULL OF CIRCUS ANIMALS. THE TRAIN IS CRASHED BY ONE OF THE ANIMALS, FREEING THE OTHERS, AND THEY ESCAPE AND HAVE VARIOUS ADVENTURES. WEISS USES THE ANIMALS' ADVENTURES TO PUZZLE OUT THE MEANING OF EXISTENCE, WORKING IN ALLEGORY AND METAPHOR. ONCE YOU GET INTO IT, THE SONGS ACTUALLY BECOME VERY EMOTIONAL. A SACRIFICE BY ONE OF THE ANIMALS IN THE PENULTIMATE TRACK IS PARTICULARLY HEARTBREAKING. BUT I'VE GONE ON TOO LONG. JUST GO LISTEN TO IT AGAIN WHILE READING THE LYRICS. BE AS DILIGENT AND STEADFAST AS PERCIVAL.
Dude, Percival was the best knight of the round table.
YEAH HE WAS.
Woah, that was weird. But me from a week in the future is right.
Ten Stories
contains Weiss' best work. While I can't quite say this is mewithoutYou's best album to date, mainly due to
Catch for Us the Foxes
and
Brother, Sister
connecting so strongly,
Ten Stories
rewards dedicated listens more than all the rest of the bands work. It's a great album, and when the lyrics hit on all cylinders together with the music, which happens during the vast majority of
Ten Stories
' runtime, the experience is sublime. I'll end with a great example for the previous sentence, "Fox's Dream of the Log Flume," one of
Ten Stories'
more intense tracks. When the lead guitar line comes in, you know the band mean business, but they are spurred by Aaron's opening verse:
Provisionally 'I,' practically alive/
Mistook signs for signified/
And so since I've often tried/
To run them off a cliff like Gadarene swine
...
Finally,
Ten Stories
' numerous female guest vocalists certainly do not hurt.
2012 Pine Street
1. February, 1878 3:46
2. Grist for the Malady Mill 3:17
3. East Enders Wives (featuring Aimee Wilson) 2:52
4. Cardiff Giant 3:43
5. Elephant in the Dock (featuring Amy Carrigan) 3:51
6. Aubergine (featuring Amy Carrigan) 3:14
7. Fox's Dream of the Log Flume (featuring Hayley Williams of Paramore) 3:44
8. Nine Stories 4:46
9. Fiji Mermaid 3:34
10. Bear's Vision of St. Agnes (featuring Aimee Wilson) 4:59
11. All Circles (featuring Hayley Williams of Paramore and Daniel Smith of Danielson) 2:44