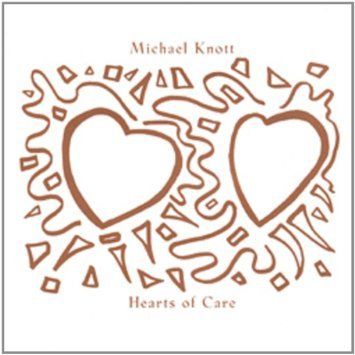 8/10
I couldn't tell you when I first heard of Mike Knott. Was it when I stumbled upon the wonderfully cathartic
"Rocket and a Bomb"
on a particularly dark night? Was it reading a hyped up article on the good old Internet, about how Knott was Christian music's hidden legend, a troubadour who battled addiction and kept it real? Was it looking up his old band LSU because they were called LSU, and GEAUX TIGERS! Was it at Cornerstone 2002? Or was it when my old radio show received Knott's 2002 album
Hearts of Care
? I guess it doesn't matter. What does matter is,
Hearts of Care
has stuck with me over these last 13 years (MY LUCKY NUMBER).
I'm sure Knott has better albums out there than
Hearts of Care
. A common joke is that he's released over 10,000 albums over the course of his career. I'm sure he's released albums that are more influential, and more representative of his core sound. This album, though, is a true pleasure.
Hearts of Care
is a half-hour of well-weathered acoustic songwriting, with a liberal dose of lovely violin and harmonica. I was expecting hard-edged rock, and this travels nowhere near that territory, even though the first song is literally and aptly titled "Detox Radio Station." The next nine songs are romance-focused, with the relationship splitting apart on track nine, "Wasting Time." I gave "Wasting Time" plenty of spins on 91.1, and I hope our listeners enjoyed it as much as I did and still do. It brings to mind every romantic relationship I've ever been a part of, with its simple lyrics, gentle melody, lovely harmonizing, and general inevitability.
The album ends with "Hammers and Nails," following the lyrical narrative of
Hearts of Care
to its natural conclusion, but finishing on a completely different musical note. The majority of the song is just background static and Knott singing without accompaniment, through what sounds like a cassette recorder.
And I'll walk this road,
even if you're not going.
This love is still growing,
it's ringing like bells.
Just listen straight at me,
hear my whispering failings.
That's why I'm singing,
His love never fails.
2002 Northern Records
1. Detox Radio Station 5:04
2. Bus Stop 1:30
3. She Steals This Heart 4:42
4. Hearts of Care 4:20
5. And I Love You Girl 3:23
6. Of My Love 1:36
7. Waiting for Your Turn to Smile 4:10
8. She Comes Comforting 4:34
9. Wasting Time 2:41
10. Nothin' is Roses 4:33
11. Hammers and Nails 2:21