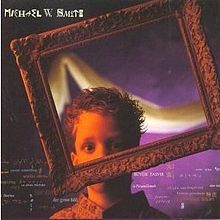 6/10
My mother became a Christian right before I was born, to kick off the glorious 80's. Over time, she slowly put away her Zeppelin, Skynryd, and Sabbath for...CCM. One time she had Michael W. Smith's
The Big Picture
in her car. Between my sister's dance practice and my parents' house, I heard one of the songs, "Goin' Thru the Motions," and it sounded interesting, but the next time I rode in my mom's car, I noticed the cassette was gone. I asked my mom what happened to it, and her response was, "It was too crazy, so I threw it away." This was a tantalizing comment, but I never heard the whole album until a few years ago, and the only thing
The Big Picture
is crazy for is the 80's. In all honesty, there is actually ONE Michael W. Smith album I enjoy a lot, and it isn't
The Big Picture
, but I saw
The Big Picture
in the used section for 1 cent, that's ONE RED PENNY, so here's a review for it.
Remember 80's pop rock? Big synth beats, big synth lines, big lines of other things, hair metal guitar, big saxophone lines, and also the saxophone player clapping high above his head and doing synchronized dance steps with everyone else when he doesn't have a part to play, and also a whole lot of earnestness? Smith is more earnest than a lot of his peers, and out of these ten tracks, I can stomach about half fairly easily, so I'll go ahead and tip him over average with a six out of ten.
Aha, but the tracklisting declares
The Big Picture
to have 11 songs! What about the eleventh? Word used to be that Smith was one of the top three keyboard players on the planet. He's done work with some huge artists in that realm, so I'll go for it, and this final track, "Coda" is 41-seconds of it. "Coda" sounds like a seat at the most awesome airport piano bar in the world, and in its 41-seconds, I can imagine a glass of something and the sound of a plane soaring above my head and the silent constant of snow falling in the night, and I can't help but say to myself, "Michael, you could do this the whole time?"
He doesn't do it the whole time, though, in fact, he only does it for the album's final 41 seconds, so instead, here is the big synth line, big synth beat, hair metal guitar, and big saxophone lines of "Goin' Thru the Motions," and may God have mercy on the 1980's soul.
Also, I like this song, so leave me alone.
1986 Reunion
1. Lamu 5:55
2. Wired for Sound 6:00
3. Old Enough to Know 4:47
4. Pursuit of the Dream 5:11
5. Rocketown 4:32
6. Voices 5:50
7. The Last Letter 4:49
8. Goin' Thru the Motions 4:55
9. Tearin' Down the Wall 3:35
10. You're Alright 4:36
11. Coda 0:41