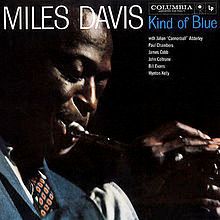 10/10
Well, people have maybe said a few things about this album before, so it's kind of pointless for me to pontificate. If you like jazz, you have this album, and you understand its significance. If you don't like jazz, or are not sure if you like jazz, or just want to check out a jazz album, you need to listen to
Kind of Blue
. I'm only a casual jazz fan, from the day the local NPR station wasn't all talk all the time, playing classical music everyday and every night, jazz and blues on Saturday, space music on Saturday night, and comedy and other miscellany on Sunday. The only talk came early in the morning, and during the afternoon drive (Marketplace, All Things Considered, and such). I love classical music, but I always had a soft spot for those special Saturdays--car talk, and then some of the coolest music I ever heard. While I never became a jazz fanatic, I've always carried a place for it in my musical heart GOOD GRIEF THIS IS SAPPY AND SENTIMENTAL sorry. Anyway, quick to the point,
Kind of Blue
predates the good stuff The Beatles put out by nearly a decade, but its album structure is flawless, beginning upbeat, but always relaxed (this is the most relaxed non-boring album of all time), testing more melancholy waters for its middle track, coming back to the upbeat positivity for its fourth song, then returning to slower, more musically balladesque seas for its track five goodbye. Plus, if you don't like saying goodbye just once, the recently added bonus track at the end re-states the goodbye just for you. I do have to admit, as a kid, I was more partial to
Charlie Parker
's friskier tempos, but as an adult, I think I could listen to
Kind of Blue
forever. Take that as you will. Take it away, Miles.
1958 Columbia Records
1. So What 9:04
2. Freddie Freeloader 9:34
3. Blue in Green 5:27
4. All Blues 11:33
5. Flamenco Sketches 9:26
6. Flamenco Sketches (alternative take--a bonus track from the 1997 re-issue) 9:32