LET'S HAVE SOME BEERS
Adrian and I awoke from our respective couch and floor positions, as the other five guys exited the room in search of the hotel continental breakfast. We did not go with them because we had no interest in continental breafasts. That is because when Adrian and I visit another city, we want to eat whatever culinary objects that city uniquely offers, unless we're in Dungbeetleville, or Tuscaloosa, Alabama. Adrian had already been to New York quite a few times, and this was his fifth time as a Coney Island Hot Dog Eating contestant, so he knew that only one thing could satisfy, and Ess-a Bagel.
That wasn't a misprint, we went to Ess-a Bagel.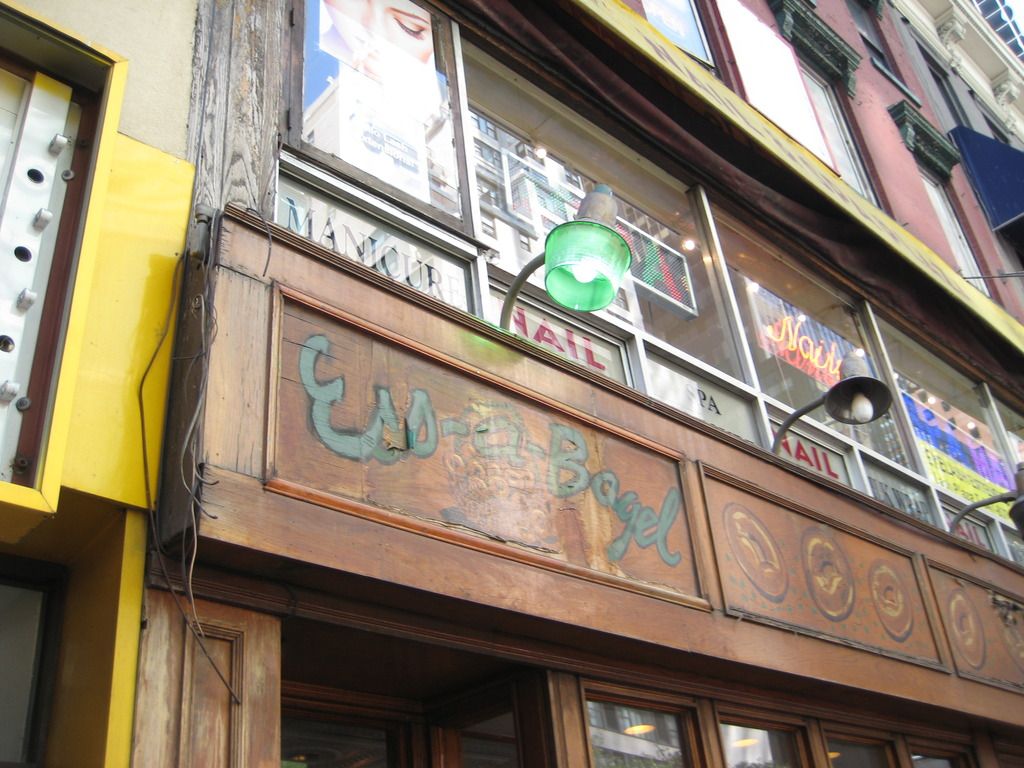 The other guys even came with us.
I'm not sure how you could be dissatisfied by Ess-a Bagel, unless you like to sacrifice puppies that you kidnap from disadvantaged children to Satan, which I've heard from the Internet that people DEFINITELY do all the time in some other town I've never been to.
I don't sacrifice ANY kind of puppies to Satan, so I really love Ess-a Bagel. Ess-a Bagel offers a wide variety of bagel types, which can be topped with just about anything one can think of--I mean, like, anything one can think of that would taste good on a bagel, not like, anything. Also, though the line went to the door and wrapped around the building, we were in and out in five minutes, just like your mom. Also, they have the Bagelman.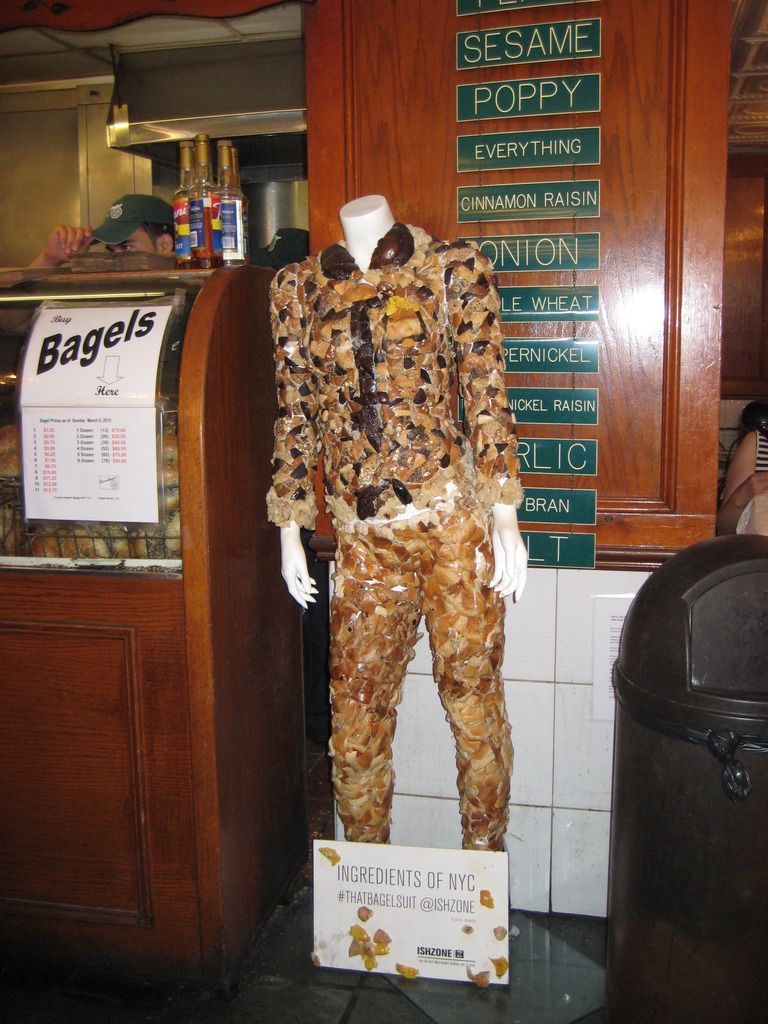 At night, he comes alive to punish the puppy sacrificers with the power of bagel. Spellcheck does not think "sacrificers" is a word. WELL WHO OFFERS THE SACRIFICES THEN, SPELL CHECK?! Also, the bagel flavors are on the wall behind Bagelman.
Everyone got some variation of eggs or meat and vegetables on their bagels, but not me. I got strawberry cream cheese on my wheat bagel (wheat for regularity!), with a glass of chocolate milk on the side because I am twelve years old--the amount of times I've mentioned puppies in this entry should have tipped you off. My bagel was so good, and everyone was so jealous, but I didn't take a picture of my strawberry cream cheese bagel because I wanted to attempt to preserve what little manhood I had left after walking through the streets of New York City, carrying around something that sprayed out pink, viscous waterfalls every time I bit into it, in between blowing bubbles in my Nestle Quik. Everyone's jealousy also confirms a suspicion I have had for quite a while--men act like they enjoy sitting around drinking beer and whiskey with their friends, when they really just want to eat candy bars and drink soda. I mean, I'm picking the candy bar and soda four out of five times, and I'm definitely a grown man.
Speaking of candy bars and soda, we got on a train and headed to Central Park.
Speaking of candy bars and soda because to get into Central Park from the south, you have to pass the Plaza hotel, where in Home Alone II, Kevin Mccallister stayed and ate a lot of candy and drank a lot of s...sorry, that segue was terrible. I now hang my head in the bowels of sad segue Sheol, where there will be weeping and gnashing of teeth. Anyway, Central Park.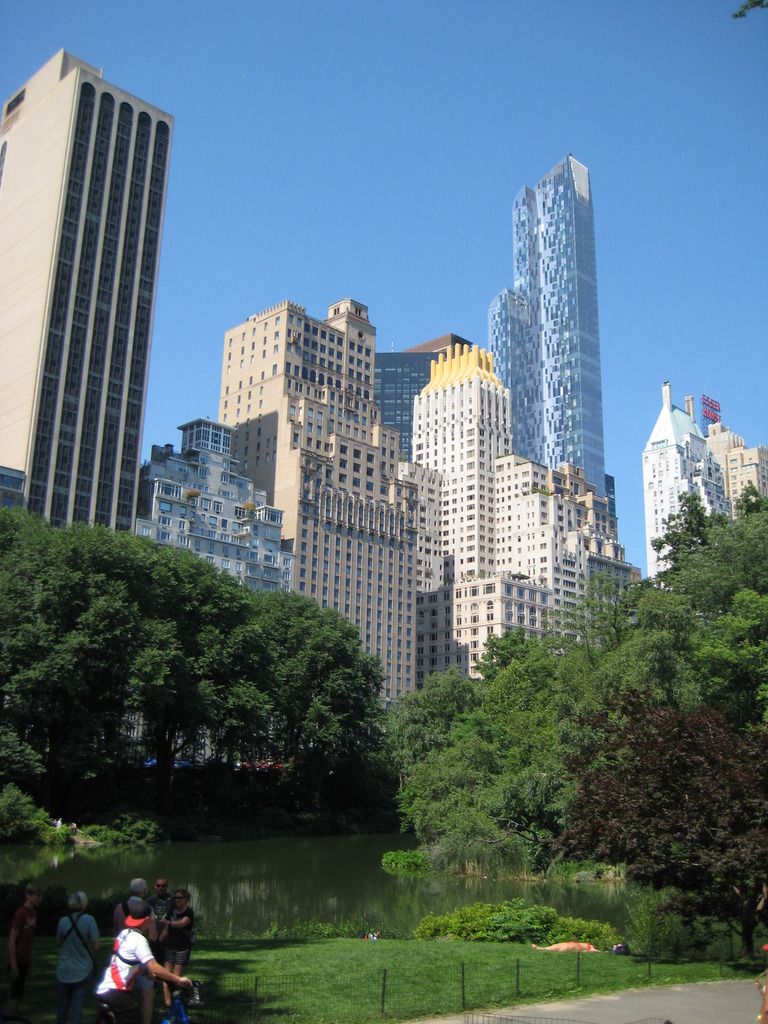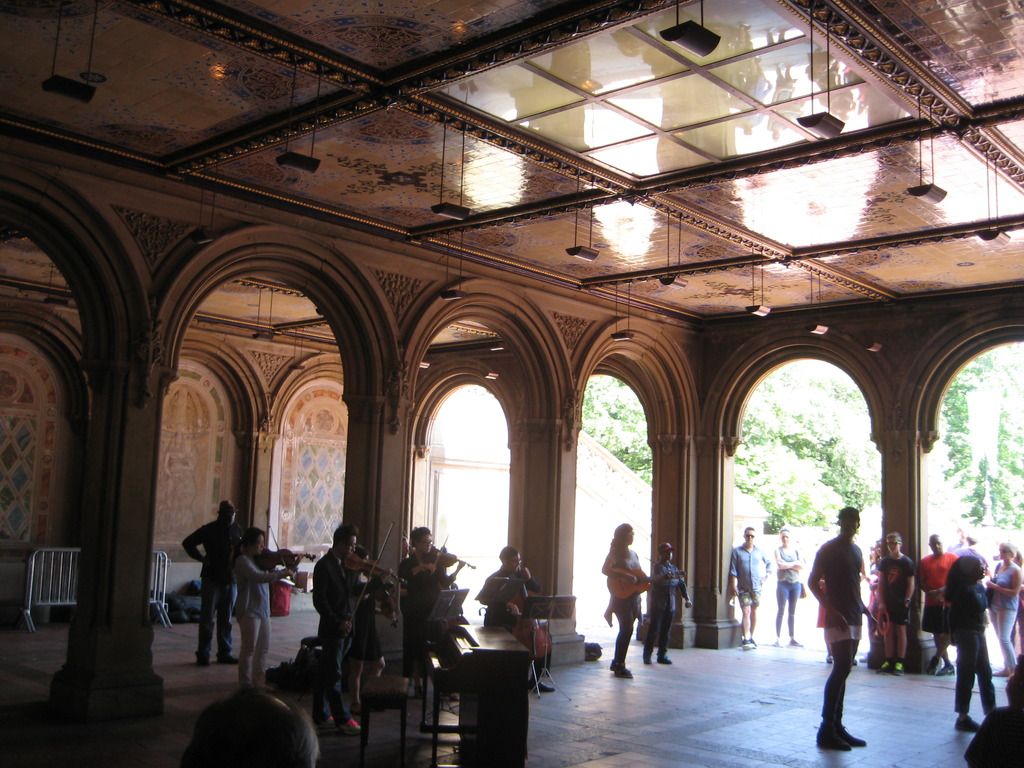 It's a big park with trees and rocks and lakes and pavilions and fountains and tunnels and stuff in the middle of New York City. What's not to love?
PRESENTING A CRAPPY VIDEO OF CENTRAL PARK, TAKEN WITH A PRE-OBAMA ADMINISTRATION-ERA DIGITAL CAMERA (USED IN LIEU OF THE ONLY SLIGHTLY MORE CRAPPY DISPOSABLE CAMERAS GENERALLY UTILIZED FOR A NICSPERIMENT TRAVELOGUE)
Actually, the whole "what's not to love?" thing was a point of conversation between our seven party members, as we all found ourselves in a state of blissful oneness with the borough of Manhattan.
If you find yourself in the middle of Central Park, the air 75-degrees, weather breezy and sunny, as you see people all around you enjoying themselves to the sounds of birds chirping, buskers on stringed instruments, the city moving, and you don't feel happy, it's your fault. Man, I can't think of anything funny to say. How does one make a joke out of: the weather was really nice, the vibes were really good, and we all enjoyed each other's company?
Renaissance Man.
Renaissance Man approached our party slowly, dressed in red royal robes, and a king's crown. He eyed one party member in particular, stepped right up to him and said, "If you give me five dollars, I'll let you touch my dragon."
We then quickly exited that portion of Central Park.
We made our escape through a woodland maze called The Ramble, a set of winding paths designed to give New Yorkers a taste of the great outdoors. However, in light of our recent encounter, one of my fellow party members gave it the unfortunate moniker, "Rape Trail." As you can see, we were terrified for our lives: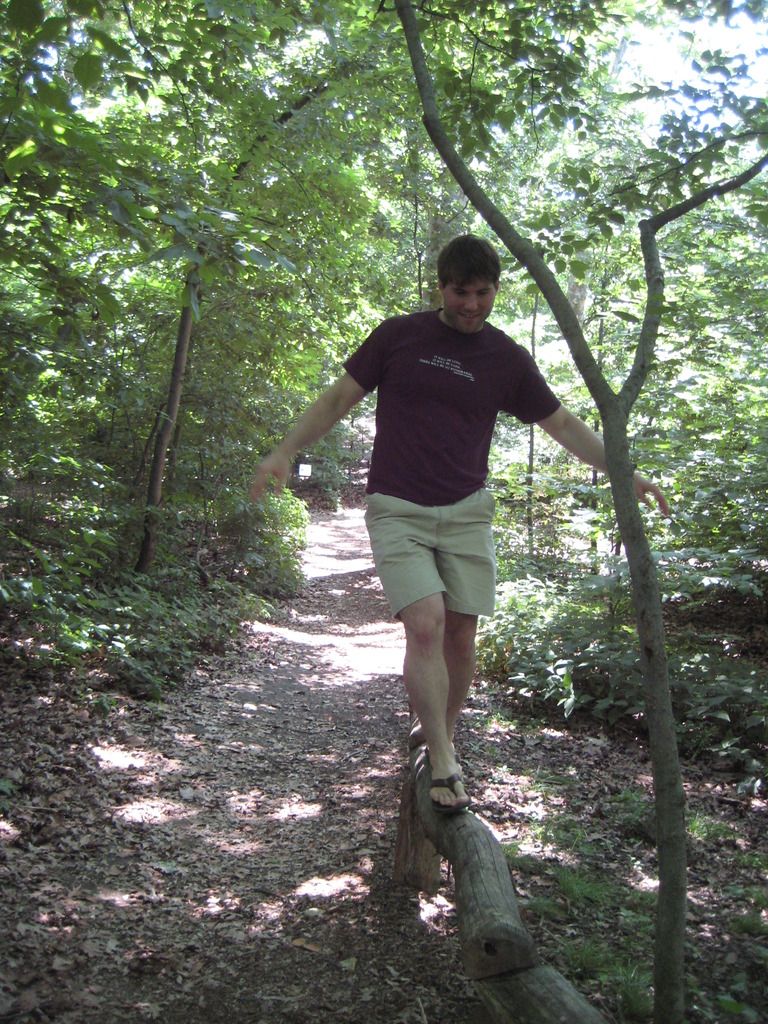 The awesome part about the Rape Trail--er, Ramble--is that every time you think you are out of it, the path dead ends at some lake or another, kind of like how I keep going to see Jurassic Park sequels thinking they will be good. Also awesome, one of our party members felt an obsessive compulsion to climb any rocky outcrop he saw, and as Manhattan is carved out of and sitting directly on top of a bedrock specifically named after itself, we were forced to stop many times, though I guess compulsively climbing things is cooler and more fun than obsessively checking each stove handle so many times, you just give up on leaving the house, curl up on the floor, then awake to the living nightmare that you haven't checked the stove handles in almost 30-seconds. Hang on, I need to go check the stove handles.
Here's a couple pictures of the dude climbing things: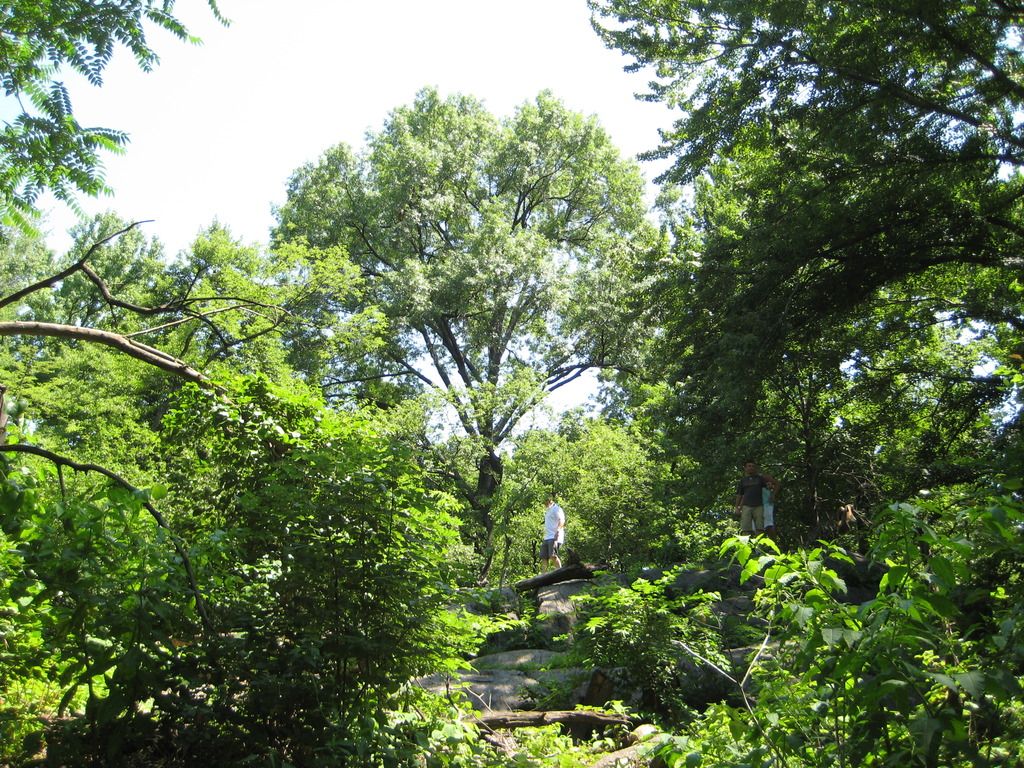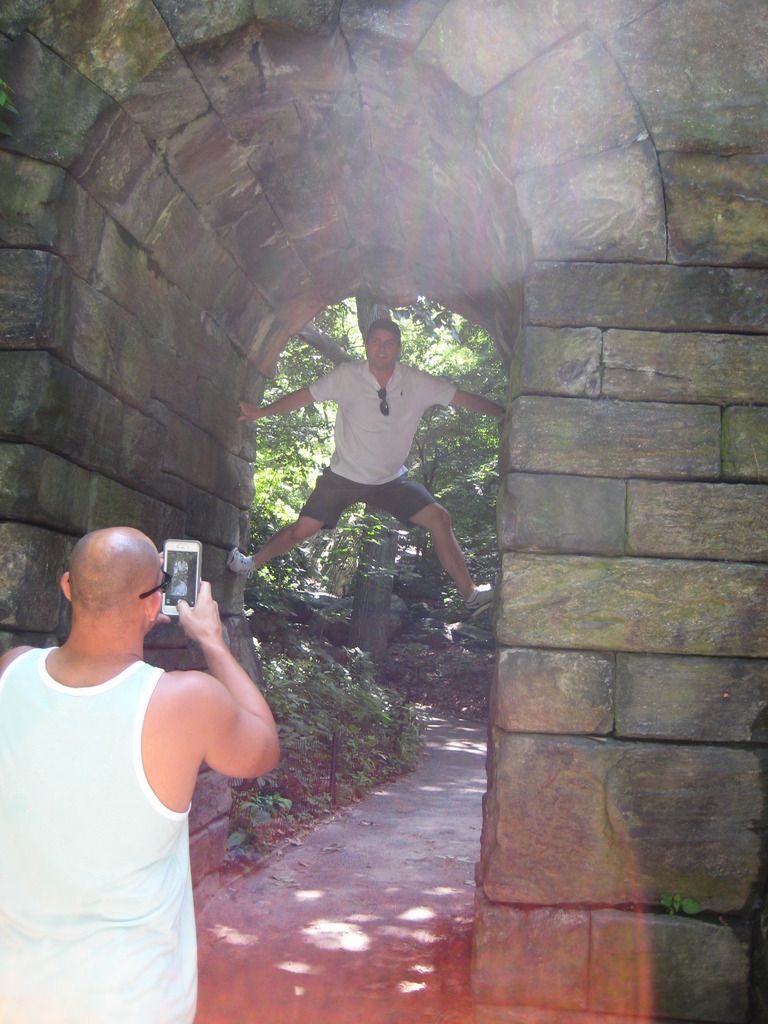 I didn't photograph his most spectacular climb because I was too busy lifting my hands in the air to catch him so he didn't dash his brains out on the same Manhattan bedrock he compulsively climbed like my cat compulsively eats every blade of grass we accidentally track in the house, then vomits them all over the carpet you stupid cat.
All this wandering was all fun and healthy for our bodies, but we wanted to reach the park's west exit so that we could do the opposite of that, and visit Levain Bakery for some cookies.
After crossing like half a million beautiful bridges, we finally reached the park's borders and escaped...er, exited.
After a short walk through a neighborhood I'd gladly move to at this exact second, we reached Levain Bakery on West 74th. There was a long line outside, and some dude passed by on a bicycle with tennis rackets strapped to his back and shouted out, "They're just cookies!" but that guy is a joyless douche, trying to purge out all happiness from the vagina of life because when you call somebody a douche, you must realize that that is what you are actually saying.
You can tell that Levain knows that they are awesome because they feel no insecurity in the size of the tiny little sign that announces their presence to the street (I mean it, look at the above picture, that sign is puny!). You could easily pass it up and never know of the wonder within...because these aren't "just cookies." Before we worked our way through the line and entered, Adrian asked the party, "Are you ready to have the best cookies you ever had in your life?" My hands were shaking in anticipation, and a couple of the guys seemed excited, too, but I could hear something, like a far off cry, like when you're at the beach, and maybe a beautiful girl just called your name from oh so far away, or maybe it was just a little seagull: "Let's have some beers." I turned around to see who said it, noticed some pigeons hopping around, turned back and went inside.
My closet is bigger than Levain, kitchen included, and my current home can technically be towed. With that said, I don't know where Levain are hiding all the sticks of butter that go into making their massive cookies, and I don't care because wowser. Levain features four cookie varieties, two of which are chocolate based, and I bought and ate one of each with yet another glass of milk because it does the body good after the body has just consumed 2000 calories of cookiety goodness. These cookies have everything.
The outside has just that little bit of crunch that is so satisfying, while the inside is soft and cathartically gooey. The flavor is spot on full on fatty chocolate, and the cookies perfectly balance the amount of cookie you are getting with the peanut butter chips or dark chocolate chips, respectively. The chips themselves are of a Zen-like consistency with the Buddha...er, cookie. I was later told by everyone I know who has been to Levain that they generally eat only half of one cookie, but this is me we are talking about here, and my cousin is Adrian "The Rabbit" Morgan. I think the most important thing to note is that I can get a lot of satisfaction out of eating, say, Toll House's triple-chocolate cookies, but all of that store-bought stuff generally has a slightly unnatural aftertaste, though often minor. Levain's cookies did not, only butter, sugar, eggs, flour, chocolate, in exactly the right amounts and I want cookies now why is New York City 1400 MILES AWAY?!?!?! (insert noise Pepé Le Pew makes when he thinks about the cat)
The other guys lingered on the street, while Adrian, myself, and one other party member utilized Levain's minuscule seating to fully enjoy...I can't talk about this anymore, someone's about to call the police on my stomach because the things it is thinking right now are lewd and indecent, and cookiemy, though recently supported by the Supreme Court, is definitely still illegal in the Deep South of Louisiana.
When we finally emerged on the street, I heard the wild distant call yet again, "Let's have some beers." We followed the sound down the street to Gray's Papaya, where the other party members were snacking on hot dogs. I didn't eat any hot dogs because I was planning on getting one at Yankee Stadium that night (didn't happen), and also on getting one at Nathan's Famous the next day (happened repeatedly), and also because I just ate two pounds of cookies.
Suddenly, the call came clearly, "Let's have some beers." The voice was audible now, and it was coming from the five party members not named The Nicsperiment or Adrian.
The Nicsperiment (me) and Adrian had to head to the San Carlos Hotel with the five others to pick up our bags, so we could head to the W, our place of residence for the next two days, while two new party members, arriving that night, would take our place at the San Carlos with the others. In the 90-seconds we re-visited the San Carlos, the other party members each downed on average two beers from their hotel mini-fridge's Tardis-like depths (bigger on the inside as it NEVER ran out of beer, and they NEVER stopped drinking). "Let's have some beers," they said as we left, but we did not want any beers, and we needed to get to the W. We bid them adieu, promising to meet back at their room in a couple of hours to head to Yankee Stadium for that night's Yankees vs Rays game. For those who don't follow sports, the Yankees are this baseball team that's played in New York for a while, and the Rays are a tax write-off for the city of Tampa.
We made it to our room, and Adrian needed to do a bit of training for the next day's competition, so I decided to hit the streets of New York City on my own. First, I went to Walgreen's--Duane Reed in New York, as apparently, New Yorkers are too cool to go to Walgreen's--for some bottles of water. Can't fool me, guys! Then I went to a place I eyeballed the night before: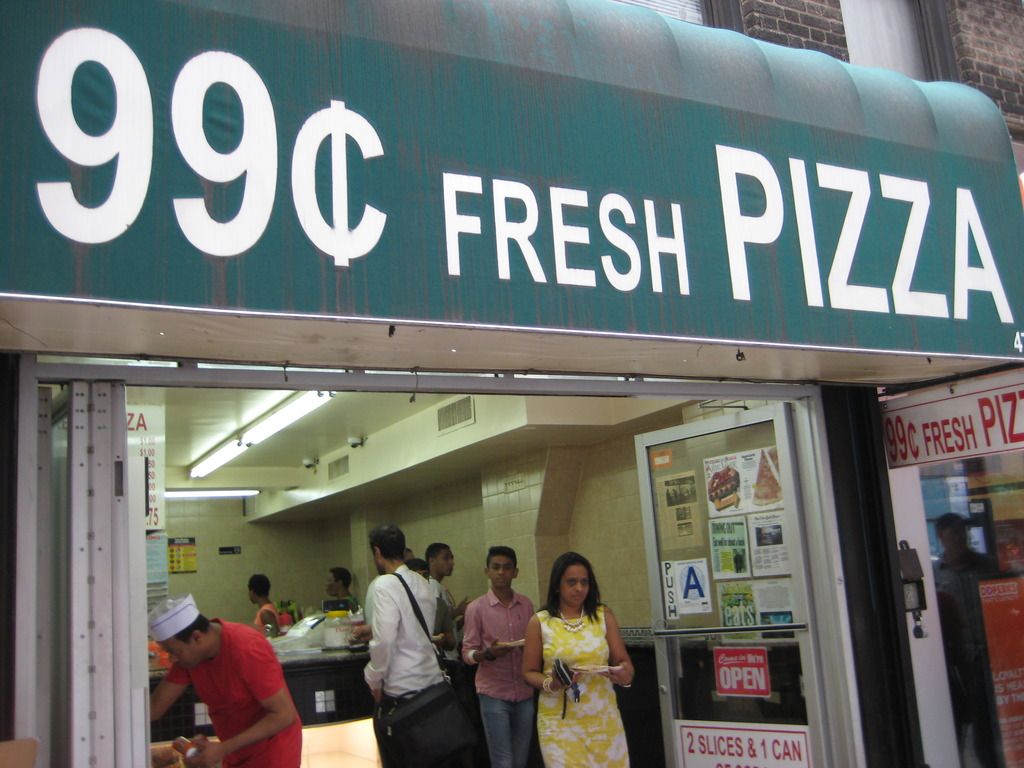 Even if it is fatal, pizza is still always worth at least 99 cents, and since I had the mother pizza the day before, I felt I should also feast on her cheap, troubled offspring. Plus, it looked like the place Louie CK goes to during the opening credits of his TV show. The pizza tasted like Chinese Food.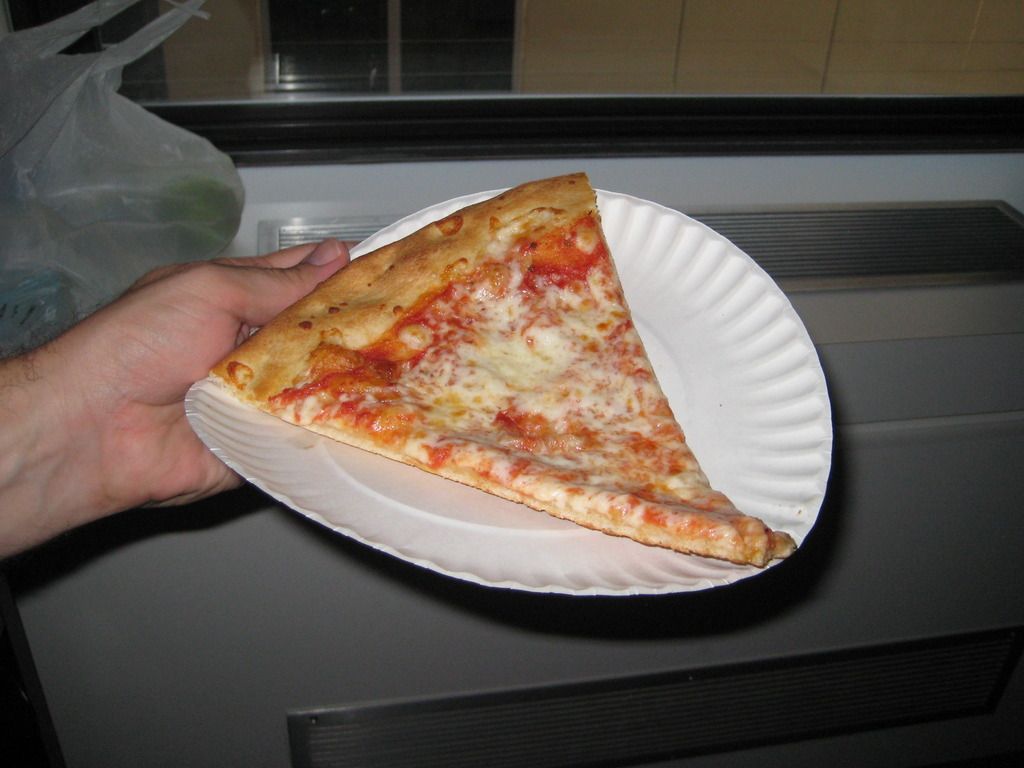 Anyone who thinks that Professional Eaters aren't real athletes doesn't understand what kind of routine conditioning someone has to do to train their body to accept 30-plus hot dogs in ten minutes. It is a lot of work, and the two top-ranked guys have to do it full-time in order to stay at the high-level of eating they've attained. Adrian is ranked seventh in the world, and he trains hard (and has 2% body fat and can do one-handed hand-stand push-ups), but unless you're in the top three, you don't make enough money to quit your day job and focus solely on training. Adrian was still training when I got back, so I lied down, read my Earthsea book, and ate my 99 cent pizza...and a bunch of candy I bought cuz even the best cookies in America aren't enough.
Adrian got back with a bunch of swag Nathan's had given him for making it to the final round--one must win an official hot dog-eating qualifier just to make it to Coney Island. In addition to a cool backpack and a bunch of awesome random stuff, he received his official jersey for the 4th.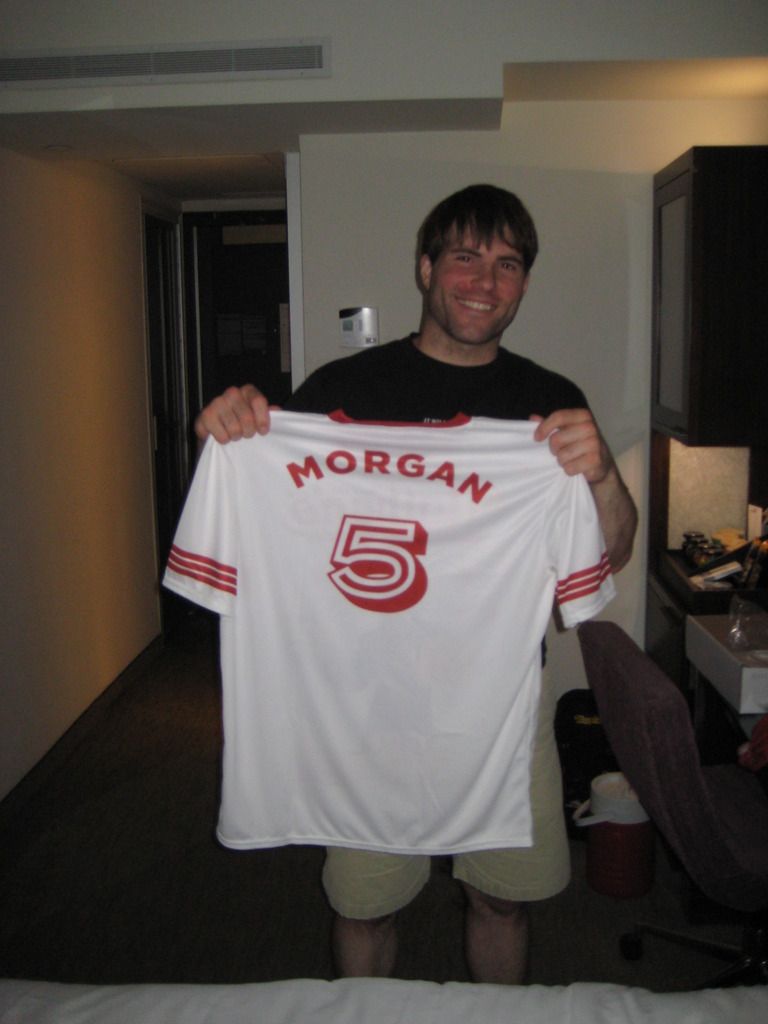 At that point, it was time to meet the other guys and head up to the Bronx. As expected, each guy was downing a couple of beers when Adrian and I arrived, while simultaneously saying the expression, "Let's have some beers." We made it to the Subway, and I took a picture to show my kid how crowded it was, but I also received the unintended reward of timing one lady standing in front of another, rather grumpy lady, and their faces melding together to become the awesomest crazy cat face I have ever seen.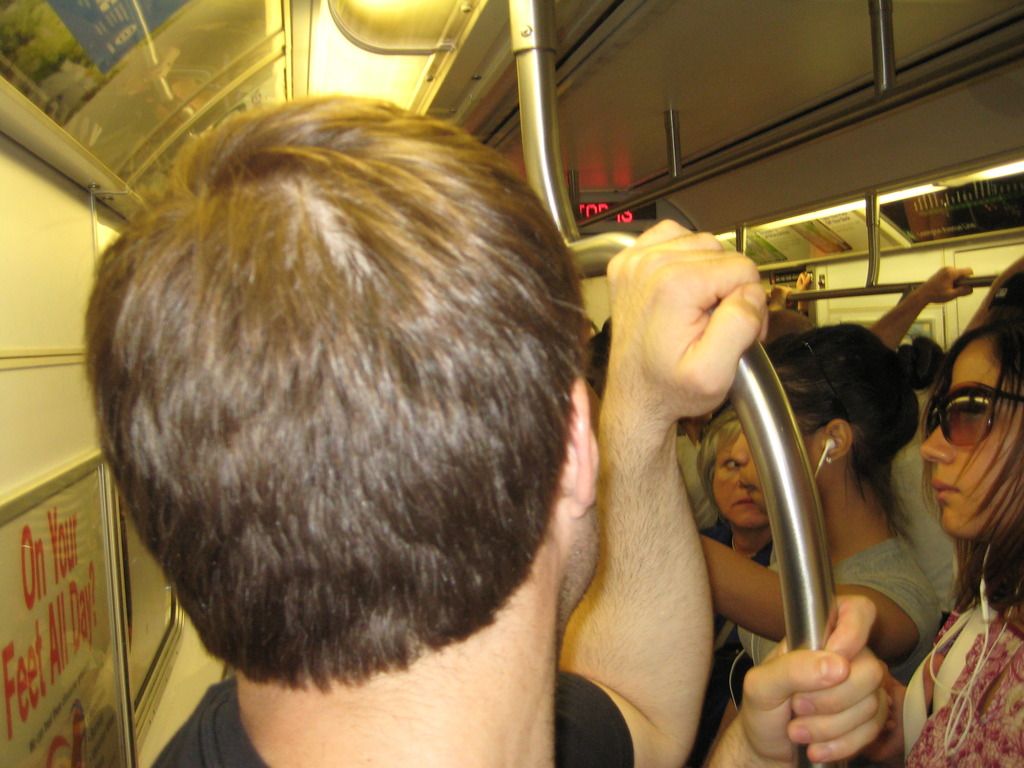 After a decent ride (not even one person got naked), we made it to the home of The Bronx Bombers, Yankee Stadium. The Bronx Bombers is the Yankees' nickname because they are located in the Bronx and because they were solely responsible for the bloody attack in Queens, New York in 1951, resulting in the deaths of almost 900 Mets fans, wherein Babe Ruth hit a baseball loaded with dynamite directly into Shea Stadium--this is why Ruth has never been allowed into the Baseball Hall of Fame, a point of contention for Yankees fans ever since, as Ruth was unaware that the ball was full of dynamite, and was also actually aiming for Philadelphia, but got turned around because he was drunk on jello shots. I'm assuming this is what the play
The Bronx Bombers
is about, but I've never seen it.
I took several decent pictures of Yankee Stadium(again, no one was naked), but I'm choosing to post this one to illustrate the fact that if you take a picture at any given location in New York City, there is a 90% chance someone will be taking a selfie in the background...I'm sorry, stadiumfie...ugh.
Before we went into the stadium, we met up with our two late-arriving party members, The Lutz brothers. I know I said earlier I wouldn't give names of party members, but the Lutz Brothers ended up sticking with me til almost the very end of this travelogue, so they are a little more important to the story.
The Lutz brothers brought our grand party total to nine, which I JUST REALIZED WE WERE THE FELLOWSHIP OF THE RING, EXCEPT INSTEAD OF THE RING, THE GIANT CONEY ISLAND TROPHY, WHICH EQUALLY DRIVES MEN TO MADNESS!!!
Uh, anyway, we found our seats in left field, in perfect position to catch a home run ball.
Also, I don't know, THE BEST CHOIR IN AMERICAN SANG THE NATIONAL ANTHEM BEFORE THE GAME (THEY SANG IN ALL CAPS, AND IT WAS INFECTIOUS. HERE'S ANOTHER HIGH*-QUALITY VIDEO + ADAM'S HAIR)
My Sicilian grandfather was a huge Yankees fan, and he got to see them win a lot of World Series over his lifetime, but for the last 14 years of his life, they were absolutely terrible, and I learned every curse word I know from watching Yankees games with him as a kid. Fitting his life completely, the New York Yankees returned to prominence and won the 1996 World Series, a year after he died. I took this picture of Adrian and me, his two favorite grandsons, at Yankee Stadium together (I'm assuming this because obviously we're the best ones, and if not, I'm the only one who is named after him (Joseph The Nicsperiment), so that's got to count for something), in his honor.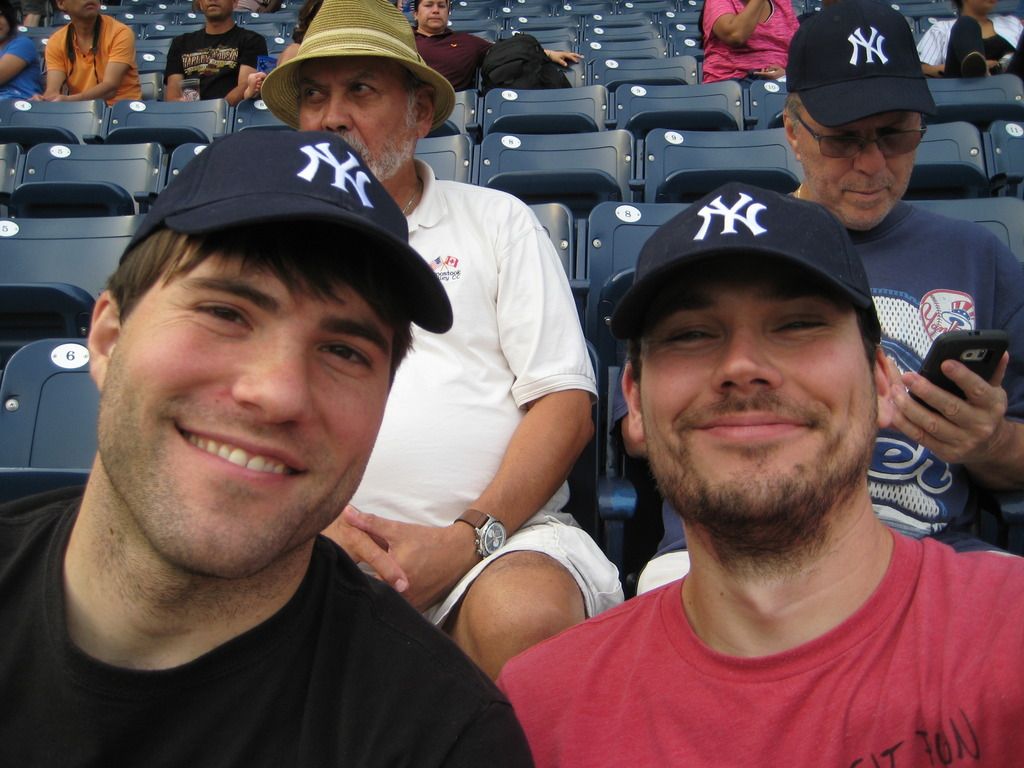 Miss you, old man.
takes cry break
Okay, I'm back.
Now I'm not saying that I blame the Yankees for my grandfather's untimely death, especially after what they did to the Mets in '51, but before this trip, I really (insert word learned from PawPaw Joe here) hated the New York Yankees. Then I walked into their stadium and they handed me a free hat, and that was enough to make me love them for the rest of my life, screw the Mets.
I love Yankee Stadium.
There's a ton of room to walk, and a ton of food options, which is the second-best way into my heart, right after giving me a free hat. Wait, I mean, I can't be that easy, right? (looks around...realizes he just gave away the secret to his heart...tries to edit the post...realizes he's never edited a Travelogue post for content before, shrugs, eats more Chips Ahoy-Brownie Stuffed Cookies he put in the microwave for eight seconds to melt the brownie interior to self-soothe during the cry break)
After the short walk to our seats, I quickly realized I wasn't going to be eating a hot dog that night, but a Philly cheese-steak (sorry, Philly, truck me over there, and I'll eat the ones you have, and maybe even cheer for the Phillies, too). I decided to take the second to third inning break to grab a cheese-steak...after handling a little family business.
You know those machines that crush pennies into little flat bronze ovals with designs printed on them? Someone had the bright idea of hooking my son on those things, so I had to grab him some Yankee Stadium pennies. Thankfully, and I'm not making this up like almost every other thing I've said, there is a website that lists the location of every single penny elongating machine in the world.
COLLECT THEM ALL
.
Following the website's instructions, I easily found the Yankee Stadium penny machine and picked up the 2015 Yankee Medallion, as well. And then I bought a cheese-steak.
Go Yankees!
I was having an incredible time. The party had seats in two adjacent sections, and Adrian and I sat with the Lutz brothers, whom I quickly discovered were a little bit more like me than the other five guys, and also one of them gave me a little bottle of whiskey. I downed it, destroyed my cheese-steak, and pulled for the New York Yankees for the first time in my life (I didn't pull for them with my grandpaw back in the day, as I didn't yet understand that something you love so much can make you swear so much...after fifteen years of legal manhood...*sigh*...I understand more than I'd like to). The temperature was in the 70's, there was the kind of breeze blowing that makes you feel like you will never die, and the sun had set in the western sky. It was the bottom of the 8th, the Yankees were down 3-0, and myself and a horde of screaming Yankees fans were calling for a rally...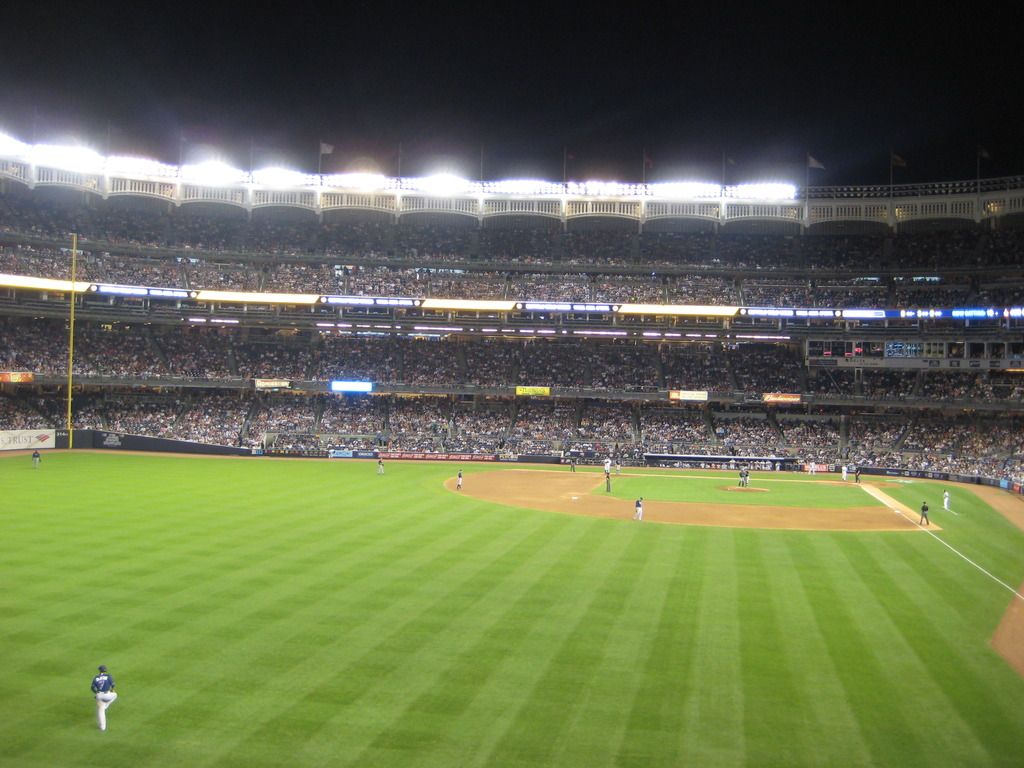 ...but then it happened...the sound of my doom.
"Let's have some beers."
There were beers in Yankee Stadium. All of the party sans Adrian and I had been drinking beers for the entire duration of our stay in Yankee Stadium. Apparently, this wasn't good enough.
"Let's have some beers." "Let's have some beers."
I knew the call was about to morph, like a beautiful egg, suddenly torn apart from the inside by a baby velociraptor, like a tadpole into a drunken, angry frog. The time was nigh, nigh, nigh...
"Let's have some beers...somewhere else."
I paid $70 for my ticket to see the Yankees face off against the Rays. At this point in my life, $70 is...a significant amount. $70 is like a video game, shoes for my kid, and a half-gallon of chocolate milk. Also, I have only been to one professional baseball game in my life, and it was on July 3rd, 2015, to see the New York Yankees take on the Tampa Bay Rays. I don't just have $70 lying around. I had never been to New York City in my life. They have beer in Louisiana. They do not have the New York Yankees in Louisiana.
We left Yankee Stadium to the sound of my protests, five minutes before the New York Yankees hit a three-run homerun that eventually took the game into extra-innings. As I had only been in New York City for 24-hours, I did not know my way around, and I did not feel comfortable finding the hotel by myself. Adrian and I went back to the W, while the other guys went out to have some beers...somewhere else. Adrian went downstairs to get some water and a sandwich, and I lied down and fired up the TV.
When I saw on Sportscenter that the Yankees had taken the game into extra innings, I was livid. When the Yankees hit what was only the 24th game-winning walk-off home run of the year to win the game in the bottom of the 12th, I wanted to take all of those guys' faces, put them in a blender, then use all of the combined shreds of bones, tissue, skin, and blood to create a giant amalgam face that I could punch for the rest of the night until I fell asleep, fists covered in face viscera. Unfortunately, I didn't have anything to punch in the face but the TV, and that sweet old TV never did a thing to hurt anybody, and hitting it would only make me cry.
I turned it off and stared at the ceiling.
I rolled over.
Picked up my book. Read a few pages. Put the book down.
Stared at the ceiling.
A knock at the door.
"Adrian?"
No answer.
"Hello. Who's there?"
Silence.
I crept cautiously toward the door.
"Adrian, is that you?"
Nothing.
I looked through the peephole.
Nothing.
I thought about just lying back in bed.
A knock at the door.
I jumped out of my socks.
Curiosity.
Fear.
Curiosity wins.
I slowly turn the handle.
It's...
Let's get some beers.