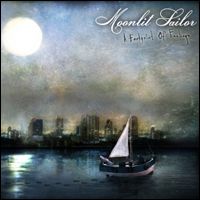 9/10
Post-rock? Homey don't say that. Yes, I know I just botched that In Living Color quote, but I mean it the way I put it. I think "post-rock" is one of the laziest rock sub-genre titles I've heard. Just check out how nebulous the
Wikipedia
definition is. Basically, if something is rock music, but it sounds a little different from regular rock music, and you don't feel like explaining why, you just call it "post-rock" and move along.
Moonlit Sailor are characterized as a "post-rock" band, but here is what they really are: an instrumental rock band who create guitar-driven songs, usually in major keys, featuring a very optimistic and victorious sound. Bass and driving, often crashing and rolling drums fill out the band's sound.
A Footprint of Feelings
is their first album, technically classified as an EP, though its seven songs clock in at nearly 28 minutes (same length as Weezer's
Green Album
). 28-minutes is the perfect dose for this kind of music, but rather ironically,
A Footprint of Feelings
contains
a conflict and tension in its midsection ("The Fog Is Lifting" and "Waterfall") that Moonlit Sailor's later full-lengths omit--but which gives
A Footprint of Feelings
an edge in total listen-ability and catharsis when the tension is released in the final two tracks. In other words, the feelings of hard-won completion the closing track elicits are earned.
A Footprint of Feelings
also features a nice variation in tone and texture, Moonlit Sailor not satisfied with just pushing out clean, happy guitar line after clean, happy guitar line. "Earls Court" and "Once We Were Children" utilize a bit of keyboard at just the right moment, to push deeper emotions to the forefront. This gives
A Footprint of Feelings
a more diverse and well-rounded feeling than the next album I'm going to review...
I can heartily recommend this EP to fans of modern, instrumental rock, and fans of positive, uplifting music in general (the honest kind, not the forced-for-radio kind).
A Footprint of Feelings
is quite the unexcavated gem. Um...dig it.
2008 Deep Elm
1. A Footprint of Feelings 3:25
2. Night Stroll 4:10
3. Earls Court 3:37
4. The Fog Is Lifting 3:48
5. Waterfall 4:29
6. Yes 3:22
7. Once We Were Children 4:29