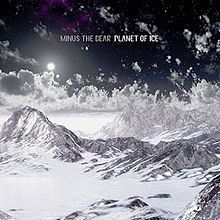 7/10
Taken from a 2010 Spin Magazine interview of rock band, Minus the Bear:
"A friend of the band had gone on a date," explains singer-guitarist Jake Snider, "and one of us asked him afterwards how the date went. Our friend said, 'You know that TV show from the '70s B.J. and The Bear? It was like that minus the bear.' That's the straight truth."
Since the band is so callously named, and since
Planet of Ice
's lyrics are almost exclusively about sex, here's a review of Minus the Bear's
Planet of Ice
from a purely sexual perspective.
You realize you really need to get laid, so you go to a bar. You see an album that looks pretty enough, and you convince her to let you take her home. Once you're in bed, things are okay, but come track three, "Knights," with it's techie-guitar line and urgent beat, you've finally gotten all that you wanted. You lie there in reverie with the pretty enough naked
Planet of Ice
for a while, enjoy her presence, but by track seven, "Throwin' Shapes," you realize that she just keeps talking, and you're tired of her voice, in this case, Jake Snider's monotonous, emotionless, but pleasant enough singing, and you're ready for her to go home. She doesn't go home yet, though, and you have to listen to her for another fifteen minutes, but then when she finally gets up to leave, which is the spacey break halfway through album-ending "Lotus," you feel a little bit of fondness for her...a "hate to see you go, but love to watch you leave" type fondness, and then the album's over. You're not necessarily going to seek her out for another go round, but if you run into her in a different bar, you might take her home again. That's Minus the Bear's
Planet of Ice
.
Also, I'm pretty sure "Knights" is just a rip-off of Paul Oakenfold's "Ready, Steady, Go," though it's still a pretty cool song.
2007 Suicide Squeeze Records
1. Burying Luck 4:53
2. Ice Monster 4:03
3. Knights 3:38
4. White Mystery 4:37
5. Dr. L'Ling 6:47
6. Part 2 3:50
7. Throwin' Shapes 2:46
8. When We Escape 4:03
9. Double Vision Quest 4:27
10. Lotus 8:48