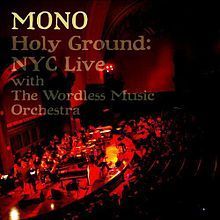 9/10
In a bit of happenstance, I just reviewed all seven Lost soundtracks, and now I'm reviewing an album I picked up the same week Lost ended. For a while, I had Lost's series finale and Mono's
Holy Ground: NYC Live with the Wordless Music Orchestra
conflated in my head, but the years have thankfully separated the two (though I still love both), and I now closely associate Michael Giacchino's music with Lost instead. But hey, enough about that, let's get to the actual review part...which is going to be short.
Mono is a four-piece instrumental rock band from Tokyo, Japan. They play a mix of really long songs that build from gentle intros to cathartic, feedback-filled finales, and shorter songs that explore the gentle side of their music more in depth.
Holy Ground
is a recording of a live performance Mono did with an orchestra. It's all very emotional stuff, and one can easily imagine the performers hitting their knees at certain moments of their performances...except I don't have to imagine because I've actually seen them do it--twice in person, and once on the incredible DVD that accompanies this disc (and includes one extra track not included on the CD). In fact, the second time I saw Mono, one of their guitarists laid on his back for about ten minutes of the set, overwhelmed by the sounds he was creating.
Holy Ground
's strings and orchestra somehow give this incredible music an even more commanding presence. Awesome.
So if you enjoy powerful, stirring music, Mono's
Holy Ground
is an excellent choice. It is of a spiritual sort (also why I conflated it with Lost's finale), hence the title, invoking the grand majesty of the unknown. The recorded show's setlist does a great job of blowing the doors off with the first songs, then giving the listeners time to catch their breath with a quiet mid-section, before coming back with an even longer, even more grand finale of long crescendos. But don't just take my word for it, you skeptic, you.
2010 Temporary Residence Limited
1. Ashes in the Snow 12:55
2. Burial At Sea 10:23
3. Silent Flight, Sleeping Dawn 5:50
4. Are You There?10:30
5. 2 Candles, 1 Wish 2:52
6. Where Am I 3:03
7. Pure as Snow (Trails of the Winter Storm) 11:37
8. Halcyon (Beautiful Days) 9:17
9. Everlasting Light 12:35