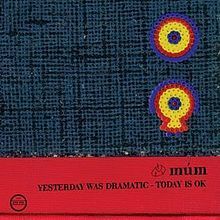 10/10
"Quiet is the New Loud" has been one of the most annoying trends in recent music history. Even the most dumbed-down story-telling class teaches its pupils the importance of a build-up and climax. With the Bon Iverization of music, we get hushed verses and choruses that seem to be growing into some kind of cathartic moment, but only lead to more hushed theatrics and maybe a single cymbal crash. BOO!!! I need payoff! If you give me whispers, I would like them to lead to a shout! Or at least a belted note or something. More like Quiet is the New Suck!
Fifteen years ago, a band called múm used their debut album,
Yesterday Was Dramatic – Today Is OK
, to do the exact opposite of this awful trend. They took a bunch of noises that are usually quiet and humble, say the humming of a refrigerator, the quiet clacking of an old printer (the beats on this album are some of the most original ever put to tape), or the turning of gears in an old toy. Múm amplify these noises and compose them together as a calming, nostalgic cacophony. One need only look at the track titles to see what múm are aiming for. These are the subconscious sounds of childhood brought to life and given musical voice.
Fifteen years later,
Yesterday Was Dramatic – Today Is OK
still sounds like a revelation and makes a mockery of the "Quiet Revolution. The way the band do whatever it is they are doing to electronic devices to achieve these sounds, and blend it together with a smattering of organic instruments like guitar and horns still rings in my ears as a musical epiphany. The small sprinkle of scattered in child-like vocals only beautify the cake. I'd say that múm, at this point in their career essentially a group of ragtag teenagers, hit lightning in a bottle here, but they released plenty of great albums after this one, as well. I'll get to those in the next few days, but to close this review, I'd like to single out a standout moment from this album.
Yesterday Was Dramatic – Today Is OK
is brilliantly sequenced, introducing its core sound early, then exploring that sound, creating a little melancholic tension in its second half, and then diffusing that tension in its final two tracks. However, my favorite moment comes in the one-two punch of "Asleep on a Train" and "Awake on a Train," which occupy the album's sixteen-minute mid-section. These two tracks sound exactly like their title, the hazy, steady, dream-like clack of the former giving way to the lively celebration of the the latter. The previous sentence in different words: "Asleep on a Train" and "Awake on a Train" literally sound like a child's first train ride, contrasting the impressionistic nap-imagery of the first, with the thrill of discovery as the child wakes up and explores its surroundings in the second. This is one of the most invigorating sixteen minute stretches of music I have ever heard. Do yourself a favor and check out this album. Part of this album may be about sleep, but unlike the Bon Iver Express,
Yesterday Was Dramatic – Today Is OK
...you know it...it, um...it...it doesn't make you fall asleep. Sorry, I started thinking about Bon Iver a little to much there.
From the liner notes múm included with
Yesterday Was Dramatic -- Today Is Ok
, sandwiched between "thank you's" and album credits:
Friends of the random summer usually rode bicycles and solved mysteries. Now they sat in the library with stacks of old records around them. They listened on a gramaphone. most of the records stored the sound of people speaking, some the sound of birds singing. The library was the saddest place. The friends went outside. Yesterday had been dramatic, but today was going to be ok.
2000 TMT
1. I'm 9 Today 4:42
2. Smell Memory 9:23
3. There Is a Number of Small Things 6:32
4. Random Summer 3:12
5. Asleep on a Train 7:17
6. Awake on a Train 9:23
7. The Ballad of the Broken Birdie Records 5:25
8. The Ballad of the Broken String 4:45
9. Sunday Night Just Keeps on Rolling 8:10
10. Slow Bicycle 8:47