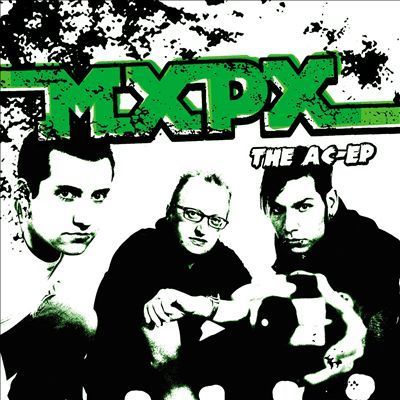 6/10
Bad timing. After a very long run of punk rock invincibility, MxPx suddenly became very, very mortal with their 2003 pop-rock album,
Before Everything and After
. As a long-time fan of the band, I tried really, really (it's double-adverb Friday) hard to like
Before Everything and After
--but after a few months, I realized the hate was extremely, extremely real. I did not want my favorite punk rock band to be a pop-rock band, and the cheesy unlistenability of
BFEAA
proves that reason doesn't want MxPx to be a pop-rock band, either.
MxPx was, until the band reached their mid-30's and started having children, a very, very prolific band, generally putting out some kind of new release every year. A year after
BFEAA
, the band released a documentary called B-Movie, which included a bonus CD called
The AC/EP
. The documentary is a slight disappointment, not because it isn't entertaining, but because the promos promise three live shows, yet the DVD actually only features a little bit of footage from five or six of the songs performed at those shows. The bonus
AC/EP
is...well, if there was one thing I and all the other long-term MxPx fans wanted after the disappointing
Before Everything and After
, it was proof that the trio could go right back to being an awesome punk rock band. The
AC/EP
offers absolutely zero evidence that the sentiment of the previous sentence could be a possibility because, at that exact moment in history, MxPx decided it was time to release...an acoustic EP.
The
AC/EP
kicks off with "Grey Skies Turn Blue." It's a poppy little acoustic number, and Mike's voice sounds just as strangely whiny, nasally, and overproduced as on
BFEAA
. Same goes for "The Silver Screen," which gives the impression that all of
BFEAA
's guest singers are going to pop-up again, that dude from Good Charlotte and that dude from New Found Glory ready to pounce on a nice little "do do do do do do dudie do" outro. Thankfully, those guest appearances never come. Next up is a nice acoustic version of the band's classic "Invitation to Understanding," and then a nice version of fan-favorite rarity "Where Will We Go?" and then a pretty nice version of
BFEAA
standout, "Quit Your Life," and strangely...as a listener now, at EP's end, I find myself in a comfortable place. Tempered expectations certainly make this EP a more enjoyable experience, even if it again finds MxPx playing
against
their strengths. The laid-back mood of the last three tracks is so disarmingly charming, it saves
The AC/EP
from disaster.
So in the end,
The AC/EP
is far from MxPx's best work, but the total product isn't a giant steaming pile of sickly triceratops feces, either. Maybe this MxPx band will hang around for a bit longer.
2004 SideOneDummy
1. Grey Skies Turn Blue 3:19
2. The Silver Screen 2:53
3. Invitation To Understanding (Acoustic) 3:19
4. Where Will We Go? (Acoustic) 1:34
5 Quit Your Life (Acoustic) 3:39