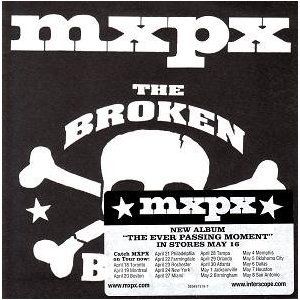 9/10
And when it seems that the golden age of MxPx could not possibly continue, here comes a little jewel of an EP rarity, 7:40 of music released to a few radio stations and never to the general public. If there's another four song-EP that averages less than two-minutes a song, yet is this satisfying, I haven't heard it. At the band's peak, Mike Herrera was always able to end an MxPx album with a couple of songs that seemed to carry more emotional weight. Even the breezy
Life in General
's breezy album-closer, "Southbound," contains deeper feeling, a certain yearning nostalgia to get back home.
The Broken Bones
features a fun, self-titled opener, and then three songs that contain that heavier emotional weight of which I just spoke. The first track features the chorus "
We're the Broken Bones!"
, which lends the possibility that MxPx are playing under an alter-ego here. That theory makes sense, as these four songs stand out amongst the rest of the band's catalogue, and contain a certain sonic consistency. I just wrote like twenty-five different sentences to follow the previous one, but I hated each one more than the last, and erased them all.
The Broken Bones
EP is awesome. It's punk and rock and about making up your mind, and time and season, and getting up after you've fallen off the bike and spilled your blood and guts. Neglecting Lauren, an awesome and awful punk band I used to sing for, covered "Blood and Guts" on our lone cassette release, as in we recorded the song to cassette and made five copies of it. It was sweet. Here's the original, which always satisfies, and is admittedly just a slight bit better than Neglecting Lauren's version. I mean, really, the two almost sound the same, but MxPx's is just a little tighter. Probably just the higher production budget.
2000 A&M Records
1. The Broken Bones 2:13
2. Make Up Your Mind 1:51
3. Time and Season 2:10
4. Blood and Guts 1:26