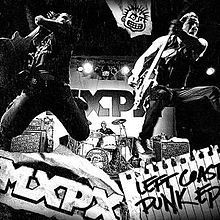 8/10
Perhaps realizing that their
On the Cover II
didn't exactly stoke the flames
Secret Weapon
had re-ignited in their fanbase a couple years before, MxPx returned months later with the
Left Coast Punk Ep
. Immediately resuming the speed punk of
Secret Weapon
(and that of the band's glory days),
Left Coast Punk
proves that
Secret Weapon
's reinvigorization was no fluke.
Left Coast Punk
kicks off with two steamrollers (speedrollers?), "One Step Further" and "Desperate to Understand," a pair of lyrically searching songs from a musically restless band. "Broken" slows things down a bit, but is immediately followed by the pummeling "Shanghaied in Shanghai." The tempo again goes down with "Hopeless Case," but the song still rocks and continues the EP's lyrical themes. Then it's the end. Literally, the last song is called "End." If MxPx had decided to hang things up here, "End" would have been a fitting one. The song is a bit of a venture for the band, flirting with reggae in its second verse, and atmosphere with its spacey chorus and ending. It's a fitting close to this particular phase of the band (this EP was self-released as the band told Tooth & Nail Records goodbye for a second time). My only real complaint is the EP's sound quality, which is a bit tinny. Otherwise,
Left Coast Punk
is a little gem.
2009 Rock City Recording Company
1. One Step Further 2:54
2. Desperate to Understand 3:01
3. Broken 2:19
4. Shanghaied in Shanghai 2:33
5. Hopeless Case 2:35
6. End 3:35