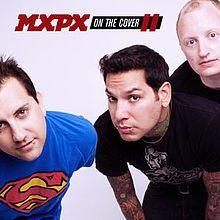 7/10
After the return to roots
Secret Weapon
, 2009 MxPx decided to just do something fun. They'd put out a covers EP 14 years before. Now that they'd brought a bunch of old listeners back into the fold, why not make a
whole album
full of covers?
While
On the Cover II
is fun, I'm not sure it was the best move at the time. The band could have struck when the iron was hot, and maybe released another album full of new songs that picked up right where
Secret Weapon
left off. As it stands,
On the Cover II
starts off strong, but after an extremely strong fourth track cover of The Proclaimers "I'm Gonna Be (500 Miles)," the album's midsection is not bad, but it does lag, until the band finally put to tape The Clash's "Should I Stay or Should I Go." "Should I Stay..." has long been a live staple for the band, and a chance for guitarist, Tom, to get a rare chance at lead vocals. Tom relishes his opportunity here, and his enthusiasm is infectious. A couple tracks later the band close with an invigorating attempt at Queen's "Somebody to Love." Overall, the album is fun, if non-essential...but a physical copy of this album is. In the lingo of all these stupid click-bait sites currently clogging up the Internet, "Here's Why..."
Speaking of awesome, how about the band recreating this vintage cover from their original
On the Cover
EP on
On the Cover II
's...cover, as old guys. Less pimples, more wrinkles.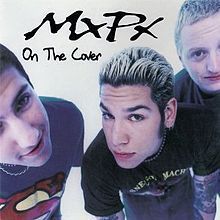 2009 Tooth & Nail
1. Punk Rock Girl*
1
(originally by Dead Milkmen) 2:36
2. I Will Follow (originally by U2) 3:04
3. Suburban Home (originally by Descendents) 1:45
4. I'm Gonna Be (500 Miles) (originally by The Proclaimers, with a brief interlude of Surrender by Cheap Trick) 4:12
5. My Brain Is Hanging Upside Down (Bonzo Goes to Bitburg) (originally by the Ramones) 3:12
6. Vacation (originally by The Go-Go's) 2:39
7. Heaven Is a Place on Earth*
2
(originally by Belinda Carlisle) 2:34
8. Kids in America Kim Wilde 3:05
9. Fallen Angel*
3
(originally by Poison) 2:55
10. Should I Stay or Should I Go (originally by The Clash) 2:43
11. Linda Linda (originally by The Blue Hearts) 3:05
12. Somebody to Love*
4
(originally by Queen) 3:30
*
1
featuring Matt Hensley of Flogging Molly
*
2
featuring Agent M of Tsunami Bomb and The Action Design
*
3
featuring Craig Owens of Chiodos and Stephen Egerton of Descendents
*
4
featuring Ethan Luck of Relient K and Bryce Avary of The Rocket Summer