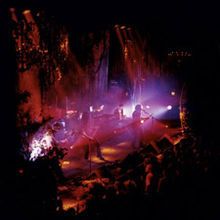 8/10
First listen: checked this out from the library at which I worked. Listened to it on the way to Tennessee, while my wife slept. It is over two hours of live music, two hours of long music, with a first disc containing songs that work better as singles and sing-a-longs, and a second disc that features extended, double-digit minute jam sessions. I've seen this band twice. Once, in 2006, they played for like three hours. That was too much. Two would have sufficed for what this band does. The second time I saw them was a few months ago. They only played for two hours. That was about right. Also, my wife's ex-boyfriend wasn't standing five-feet away from me the second time.
Okonokos
features two hours and ten minutes of music. It worked well for me as a captive listener. Plus, Tennessee mountains match well with music made just down the road from there. I didn't rush out and buy this album, though.
Second listen: More than half-a-year later, my brother-in law got me the 4-LP vinyl version of
Okonokos
to go along with the new record player he got me for Christmas of 2007. You know those Saturdays when you're doing stuff around the house for hours? Going through this set of music, switching out the record four times, flipping four records (that's eight sides) suits such an occasion nicely. Also, that box set looks nice on my vinyl shelf. So in all, this thing is a little bloated, but the music is great and showcases all sides of My Morning Jacket, from the
Z
-era back. Plus, the live recordings of these performances are probably better quality than the original studio albums for some of the band's earlier work. And that's all the My Morning Jacket I own.
2006 ATO
Disc One
1. Wordless Chorus 4:14
2. It Beats 4 U 4:26
3. Gideon 3:48
4. One Big Holiday 5:56
5. I Will Sing You Songs 8:38
6. Lowdown 4:14
7. The Way that He Sings 5:08
8. What a Wonderful Man 2:59
9. Off the Record 6:54
10. Golden 4:51
11. Lay Low 6:20
Disc Two
1. Dondante 11:18
2. Run Thru 9:35
3. At Dawn 3:05
4. Xmas Curtain 5:02
5. O Is the One that Is Real 3:36
6. I Think I'm Going to Hell 5:16
7. Steam Engine 11:07
8. Dancefloors 5:15
9. Anytime 4:03
10. Mahgeetah 7:08