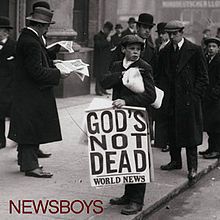 6/10
With Peter Furler off on his own endeavors and ex-dc Talk member (face it, they're all hitting 50...DC Talk is done) Michael Tait picking up the frontman reins, I wondered if Newsboys would still be anything in which I would be interested. The answer came quickly: no. Without Furler's unique musical perspective, and with the band transforming into a generic CCM vessel filled by Nashville CCM songwriters, it looked like my adoration of the band was at an end. Then, something unexpected happened. My kid, then two, suddenly decided that he loved K-Love. Especially some song about "
roaring like a lion
." Somehow, I ended up purchasing the newest Tait-led Newsboys album. The newest Tait-led Newsboys
worship
album.
1. "The King is Coming" Right off the bat, it is clear that this iteration of Newsboys is actually quite capable. With Tait's admittedly incredible vocal prowess, and the remaining three band members having now played together for two decades, there's a certain degree of professionalism here that for the first few songs, overpowers a CCM worship album's most dastardly quality: being generic. "The King is Coming" is actually a powerful, driving song that pumps up the listener like a pep-rally jam.
2. "God's Not Dead (Like a Lion)" The positive momentum continues, as Tait's old dc Talk buddy, Kevin Max, stops by to give the vocals even more character. The song, with its strong, percussive piano, catchy guitar line, rubbery bass, and driving drums, is a winner, the rare K-Love special that is actually...special.
3. "Your Love Never Fails" A solid song that adds a more laid back feeling to the album. Generally, this would lead to a ballad, but...
4. "Here We Stand" Instead, "Here We Stand" is
God's Not Dead
's most high energy, enjoyable song. The chorus features a nice group chant along with a cool effect on Tait's voice, and the music steadily plugs along, ebbing in the verses, flowing explosively (as much as polished CCM pop-worship can explosively flow) in the chorus. "Here We Stand," in my opinion, is the high point of
God's Not Dead
.
5. "Savior of the World" And the mid-tempo slog to the end of the album begins. Up until this point, the usual insipidly simplistic CCM worship-pop lyrics have been lifted by the full-steam ahead quality of the music. "Savior of the World" and
6. "Forever Reign" are actually decent songs, and if they were followed by another burst of energy, maybe the rest of the album would work but
7. "More Than Enough" - 11. "All the Way" The next five songs are an energy vacuum. I'm not sure who would want to trod through this molasses of mediocre, but this is a problem too common to worship albums in my opinion. Honestly, it even plagued Hillsong United, until they had that meeting in 2010 where they decided they weren't going to do anything that wasn't worth doing. The last three Hillsong United albums have rewritten the script on what a worship album is supposed to be, but the second half of
God's Not Dead
unfortunately follow the original script down to the depths of ultimate doldrums.
12. "I Am Second" It takes a second appearance from Kevin Max, who seems to run on stage at this point yelling, "Wake up, what are you guys doing?" "I Am Second" could have been a standout track from dc Talk's swansong,
Supernatural
. The song brings back the energy, and the chemistry between Tait and Max is irresistible, but by this point, once the track is over and you are awake again, the album is done.
So this is the last Newsboys album I own. The band is miles from where they started, perhaps more popular than ever (
God's Not Dead
has sold 500,000 copies!), but not what I signed up for. Unless they somehow catch my ear again, I think this is it.
2011 Inpop
1. The King is Coming 4:46
2. God's Not Dead (Like a Lion) (featuring Kevin Max) 4:18
3. Your Love Never Fails 3:38
4. Here We Stand 4:16
5. Savior of the World 3:38
6. Forever Reign 3:52
7. More Than Enough 3:43
8. Revelation Song 4:49
9. Pouring It Out for You 4:32
10. Mighty to Save 4:27
11. All the Way 4:07
12. I Am Second (featuring Kevin Max) 3:19