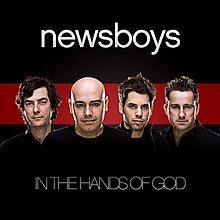 6/10
If you go by what Wikipedia says, 1985-1996 was the John James-era of Newsboys, and from 1998-2009 was the Peter Furler-era. Everything since 2009 has been the Michael Tait-era (Tait took over as soon as this album was released). Truth be told, every moment the Newsboys existed until 2009 was the Peter Furler-era. Not only did Furler often take lead vocals, but the band's musical direction often came from Furler's mind, the music itself written by him. For all intents and purposes, from 1985-2009, Peter Furler was Newsboys, not that the other members' contributions were not vital.
In the Hands of God
is the definitive end of Newsboys' Peter Furler period. I wish I could say Furler goes out on top here, but the fact is, this is a fairly unremarkable album. However, there are moments Furler's unique touch shines through, particularly when his lyrics get personal and he waxes nostalgic.
1. "The Way We Roll" Speaking of nostalgia, Furler's is immediate. "The Way We Roll" is a fun recollection of Newsboys early days travelling the world in a van, and includes colorful details, like how the band warmed up a can of beans on said van's easily overheated motor.
In the Hands of God
was produced by Newsboys superfan, Max Hsu, DJ for the band Superchick. It's clear from the production that Hsu wanted a return to the Newsboys crunchier, more rocking guitar sound, and that sound is the driving force behind "The Way We Roll."
2. "No Grave" I don't think anyone could have seen this song coming. The guitar intro sounds like System of a Down. Yes, System of a Down--dark, almost chant-like guitar picking. Hsu's influence really shines here, with the larger than life strings of the chorus and bridge. Furler belts the chorus "
No grave gonna hold my spirit down/Lord knows they'll never keep me in the ground
." He sings so defiantly, the verses sound so dark, the choruses soar so high. "No Grave" is not just an album highlight, but a career highlight.
3. "This Is Your Life" It's a ballad! The music is a bit generic, driven by a Hsu keyboard symphony, before giving way to acoustic instruments. The message, though, about taking personal responsibility for one's life, is excellent.
4. "Glorious" After showing they can still write excellent songs about the Christian life, Newsboys go back to the all too familiar corporate worship format. Hsu adds as many bells and whistles as he can, literally adding bells and a big symphony, and punching up the instruments as much as he can, but the song can't escape the feeling that someone somewhere said, "We need a worship hit for the radio. Get on that." To compound my cynicism on the matter, just a few months later, the band re-released this song as a single with Tait on vocals instead of Furler--that version was a big hit. Tait sings background vocals on some of the tracks here as it is, but it's tough to hear him in the mix.
5. "In the Hands of God" And here's another worship song, albeit one that sounds a little more unique to Newsboys.
6. "The Upside" I feel like Furler wanted to do some sort of sunny, bouncy Brian Wilson-type thing here, but it doesn't quite work.
7. "My Friend Jesus" And here are the weirdos we first met back in 1994. This song is about a guy who gets put on hold for a really long time, and is forced to listen to Celine Dion for several hours. While it's humorous, the tonal change is such a shock to the system, the song just doesn't work in the context of the album.
8. "Lead Me to the Cross" And here we go with another worship song, this one a cover of Brooke Fraser's "Lead Me to the Cross" from Hillsong United's
All of the Above
. While Newsboys cover is actually pretty good, a little punchier than the original, it doesn't usurp the original, or justify its own existence.
9. "Dance" I don't like to dance.
10. "RSL 1984" The honest, vulnerable Peter Furler from
Love Liberty Disco
returns for his final song as a Newsboy.
RSL 1984
Some kissed the girls, I kissed the floor
The Bover boys with their boots shiny red
Three dollar champagne stirring my head

We rolled out the barrels, boys
We sang with a single voice

Let all tears turn to gold and the hell I've raised
Lord, let it fade away
As Your glories unfold give me a part to play
Grant me another day

The surf and the sky and the Sunshine Coast of gold
Floating on a long board, life on hold
I never know the way, but You always take me there
And I need it now like the Mooloolaba air

We'll roll with the next wave, boys
We'll sing out, we'll make some noise
Let all tears turn to gold and the hell I've raised
Lord, let it fade away
As Your glories unfold give me a part to play
Grant me another day

Red dust rises clouds your every thought
You don't know you're deceived until you're not
Good dog, bad dog, they get to fighting in your head
The winner is the last one getting fed

God is alive and my magic is no good
And He's called me out on this walkabout
He leads me to water and traces each song line
And I know to know His ways are higher than mine

So roll out the road rig, boys
And sing with a grateful voice


Let all tears turn to gold and the hell that's raised
Lord, let it fade away
As Your glories unfold give us a part to play
Grant us another day
Why couldn't we have had that Furler this whole time?
I think that the public rejection of 1999's
Love Liberty Disco
made Furler reticent to be so open from then on out. "Oh, you don't want me to be honest with you? Here's some generic crap then. According to sales data, it must be what the majority of you want!"
And with that, an era ends.
And now Peter Furler is recording an album with Steve Albini.
2009 Inpop Records
1. The Way We Roll 3:27
2. No Grave 3:44
3. This Is Your Life 3:25
4. Glorious 4:11
5. In the Hands of God (featuring Phil Joel) 4:18
6. The Upside 3:18
7. My Friend Jesus 2:50
8. Lead Me to the Cross (Brooke Fraser cover) 4:08
9. Dance 3:35
10. RSL 1984 4:34