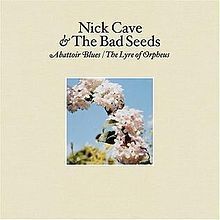 10/10
While The Bad Seeds have been a sort of revolving door of musicians since Nick Cave employed them, before 2004 there had been two constants: guitarists Blixa Bargeld and Mick Harvey. Bargeld plays a unique, minimalist style, while Harvey's contributions have been more traditional, and encompass multiple instruments.
Abattoir Blues/The Lyre of Orpheus
marks the first time Blixa Bargeld has not played on a Nick Cave album--he left after 2003's
Nocturama
, the 20th anniversary of the band's inception. Maybe the hulking German realized he had gone as far as he could in the Bad Seeds' framework. Maybe he felt like he and Cave were holding each other back. Whatever the cause for his departure, the resulting
Abattoir Blue/The Lyre of Orpheus
is not only a return to form after a near decade of missteps, but possibly Cave and the band's best work.
Maybe it's due to chemistry. The band, with Harvey now free to do whatever he wants on guitar, seems to be gelling more than ever. Maybe Cave has adjusted to a drug-free, family life. Whatever the case, both sound better than ever.
Pledging to write 15 reviews in a month has possibly been a mistake. I would love to spill a billion effusive bytes on this lovely, wonderful album. I love that it sounds like something genuinely new, and yet still something that plays to Nick Cave and the Bad Seeds strengths, and hearkens to their glory days. I love that Cave is writing stories again, creating atmosphere with his words, rather than just expressing simple emotions. I love that he and the band not only had the inspiration to write a double album, but the gumption to pull it off. I love how Cave wisely separates and connects the material of each disc.
Abattoir Blues
starts off joyously, with rowdy, raucous back-up singingm and heavy, raw grooves from the band.
Abattoir
slowly grows more somber and thoughtful as it goes along, though. Then
The Lyre of Orpheus
picks up in exactly the place
Abattoir
ends, with more delicate, mysterious instrumentation, and more mythical imagery, slowly growing in sound, and finally bringing back the back-up vocals, but this time as a sort of darker, gospel chorus. Cave even selected a different drummer for each disc (the Bad Seeds have two), getting his pounder, Jim Sclavunos to session the groovier
Abattoir
, while assigning Thomas Wydler, the bands longtime drummer, the more complex
Orpheus
.
I also love that Cave doesn't pussyfoot around matters of spirituality here. He ponders the mysteries of God more earnestly than ever before, professing worship, asking and thanking for inspiration, and questioning His people, all while singing more beautifully than he ever has in his career.
Most importantly, I love that
Abattoir Blues/The Lyre of Orpheus
proves that an older/wiser Nick Cave can still inhabit the Gothic landscapes of his past, but now with more maturity, making them less a space for terror than a place for wonder, yet as mysterious as ever. Hence my favorite Nick Cave and the Bad Seeds song, "Spell."
Warren Ellis' violin in this song is so dizzily seductive, the song as a whole so beautiful. I remember wandering around the mountains of Tennessee around midnight with my wife, about six months into our marriage, feeling each other out, trying to get a grip on one another, trying to figure things out. Midnight, 5:30, I blasted this song on repeat wherever and whenever we were. Here are the lyrics:
Through the woods, and frosted moors
Past the snow-caked hedgerows I
Bed down upon the drifting snow
Sleep beneath the melting sky
I whisper all your names
I know not where you are
But somewhere, somewhere, somewhere here
Upon this wild abandoned star

And I'm full of love
And I'm full of wonder
And I'm full of love
And I'm falling under
Your spell

I have no abiding memory
No awakening, no flaming dart
No word of consolation
No arrow through my heart
Only a feeble notion
A glimmer from afar
That I cling to with my fingers
As we go spinning wildly through the stars

And I'm full of love
And I'm full of wonder
And I'm full of love
And I'm falling under
Your spell

The wind lifts me to my senses
I rise up with the dew
The snow turns to streams of light
The purple heather grows anew
I call you by your name
I know not where you are
But somehow, somewhere, sometime soon
Upon this wild abandoned star

And I'm full of love
And I'm full of wonder
And I'm full of love
And I'm falling under
Your spell


There is so much of the divine in this song. It is a wondrous thing.
When I heard the seventh Harry Potter movie was going to include a song from this album, I thought it must be "Spell" because of the title. The filmmakers instead went with
Orpheus
' closer, "O Children." The song is one you can dance to, as in the film, but it also contains so much conflicted unease, it is perfect for the scene it soundtracks, and it is a perfect ending to this perfect double album. "O Children" takes all the themes of the album (rejoicing, pondering life's beauty and mysteries, remorse for the inequalities of life...yes, the album even has a social aspect), and makes one final, thoughtful, difficult, yet ambiguous statement, holding a sort of restraint and respect for the listener few closers of a work of this magnitude can grasp. Ah, but I'm out of time.
2004 Mute Records
Disc One:
Abattoir Blues
1. Get Ready for Love 5:05
2. Cannibal's Hymn 4:54
3. Hiding All Away 6:31
4. Messiah Ward 5:14
5. There She Goes, My Beautiful World 5:17
6. Nature Boy 4:54
7. Abattoir Blues 3:58
8. Let the Bells Ring 4:26
9. Fable of the Brown Ape 2:45
Disc Two:
The Lyre of Orpheus
1. The Lyre of Orpheus 5:36
2. Breathless 3:13
3. Babe, You Turn Me On 4:21
4. Easy Money 6:43
5. Supernaturally 4:37
6. Spell 4:25
7. Carry Me 3:37
8. O Children 6:51